Andy, N2NT will be active as V47T from Saint Kitts and Nevis Islands in CQ WW DX SSB Contest, 28 - 29 October 2023.
He will operate in Single Operator All Band High Power Category.
Recent DX Spots V47T
Before and after the contest he will be active as V47NT.
QSL via W2RQ, LOTW.
Ads for direct QSL:
WILLIAM S KELLER, III, W2RQ, 269 ANDOVER SPARTA RD, NEWTON, NJ 07860, USA.
Saint Kitts and Nevis - "The Mother Colony of the West Indies."
The Federation of Saint Kitts and Nevis is the smallest country in the region of Americas both in size and population, and it is basically made up of two Islands of the West Indies. Queen Elizabeth II remains the head of state of Saint Kitts and Nevis and the region remains part of the commonwealth. The capital city of the Island is Basseterre which is located on Saint Kitts, while the smaller Island of Nevis is located at the South-eastern region of Saint Kitts. Saint Kitts is directly located to the east of Antigua and Barbuda, and currently has an active volcano located in the Soufriere hills.
Despite its relatively small size, Saint Kitts and Nevis remain some of the Islands where Europeans settled in the West Indies, thus it is referred to as the mother colonies of the West Indies. The Island remains the earliest colonized region by the French and English colonies, and the earliest Indians who migrated to the Island named it "Kalinago" which means a Fertile land. Saint Kitts and Nevis has a rich volcanic soil and several beautiful spring waters.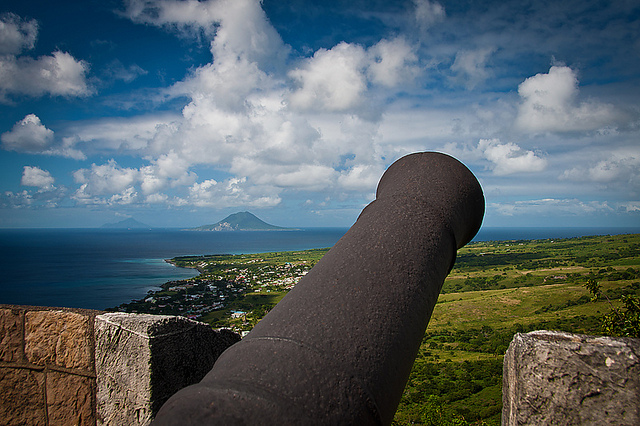 Geographical aspects
The highest mountain in Saint Kitts and Nevis is the Mount Liamuiga in Saint Kitts, which is 1,156 meters tall. The Island is predominantly covered by numerous central peaks as well as Volcanic activities that has developed over the centuries. The terrains close to the sea flattens out and these are places where most of the inhabitants of the Island reside. There are several rivers flowing from the mountains located on Saint Kitts and Nevis, and these rivers provide the much needed fresh water for the entire population. There are several other salt lakes and smaller ponds scattered around the Islands, while the Brown-coloured Pelican is regarded as the national bird.
Tourism, Agriculture and some light manufacturing industries are the main economic activities in Saint Kitts and Nevis, Sugar exporting has remained one of the Nation's primary source of income but the high production cost has forced the government to diversify from Agriculture. Tourism remains the main source of income till date.
Climatic conditions in Saint Kitts and Nevis can best be described as Tropical and tempered. The weather is calmed with the sea breezes and this is why the Island has a slight seasonal weather variations. The typical raining months are between May and November.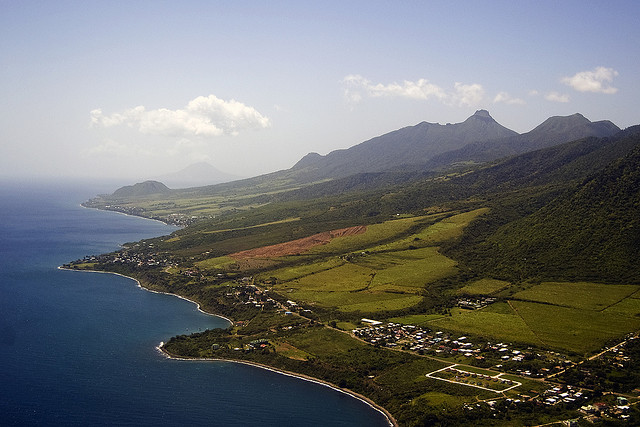 Prominent group
75% of the populations of Saint Kitts and Nevis are of African descents, African-European population account for 12.3% while people of mixed race account for 5.3%. Minority population of the Island include; The East Indians and South Asians. As at July 2012, there were less than 100,000 inhabitants of Saint Kitts and Nevis, however the emigration history of the region has lead to a decline in population since 1960.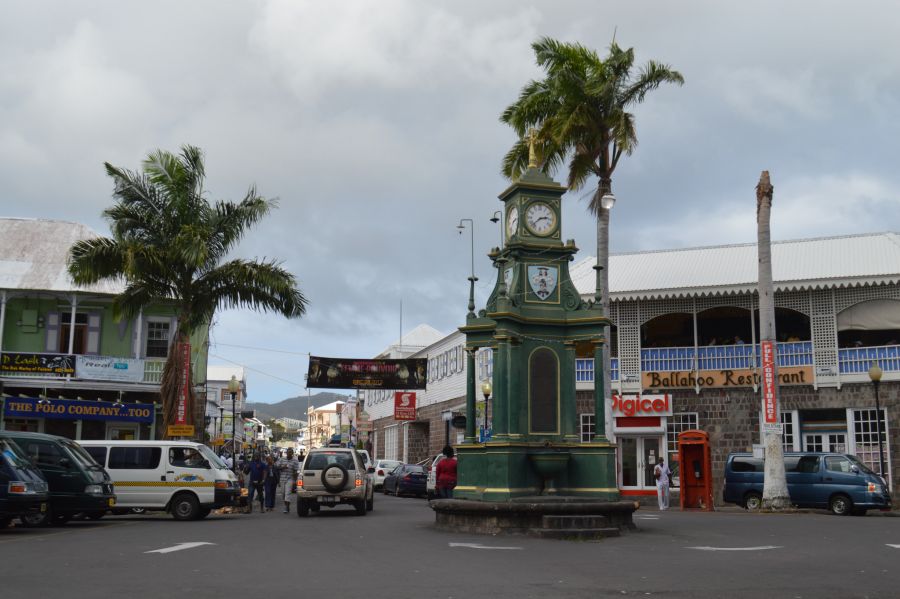 The culture
Saint Kitts and Nevis is part of the Carribean Islands therefore its culture is greatly influenced by the Carribean tradition. There are numerous musical carnivals held between December and January of every year. The Saint Kitts Music carnival holds every last week in the month of June, while the Independence day, that happens to be the 17th of September witnesses a lot of activities. Other musical genres that strongly reflect the culture of Saint Kitts and Nevis are; Calypso, Salsa, Soca, and Steelpan.
Getting to Saint Kitts and Nevis
Citizens of the United States of America as well as commonwealth groups and several other countries including; Egypt , Greece, and India do not require visas to enter Saint Kitts and Nevis.
There are daily flights from nearby Islands like San Juan , Puerto and British Virgin Island , and American airline also operates 3-times flight from Miami airport to the Island , likewise Delta Airlines offers direct flights from key cities like New York and Atlanta to the nearby Islands. British Airways offer flights on Tuesdays and Saturdays to Saint Kitts and Nevis
Saint Kitts and Nevis can also be accessed by boats. The capital city of Basseterre has cruise ship terminal , while the ferry at Major's bay in St Kitts offers a 8am-7pm boat cruise on daily basis from the Island to neighbouring Islands.
Saint Kitts and Nevis can also be accessed through the narrow gauge railway that used to be the main sugar transporting route from the Island. Organized train tours are also offered here.
Moving around Saint Kitts is primarily through taxis and buses, however these are fewer than the number of people who use them. If you are using a car for trips in and around Saint Kitts and Nevis, make sure you have negotiated and strike a bargain before it begins . You can obtain temporary driver's license and there are a number of car rental services available.
Prominent activities
There are lots of activities you can engage in while in Saint Kitts and Nevis;
• Enjoy shopping at the TDC mall in Saint Kitts, popular shops you can visit include; Splash Boutique that has lots of international and local stuffs to buy.
• Sign up for a ship cruise at the Basseterre, Saint Kitts , the cruise ships take off from 8am every morning and sail to neighbouring Caribbean Islands .
• The mountains of the highlands provide lots of climbing activities while the beautiful clean waters provide enough water activities. The warm weather allows you to sun-bath for long hours.
Famous dishes
Lots of dining options are available at Saint Kitts and Nevis, however popular local dishes include;
• Goat-water stew- this is a special delicacy relished by locals and International tourists on the Island and it comprises of a mixture of Goat meet with bread fruit, dumplings, Papaya, and tomato stocks.
• The Roti- this is a thin pastry delicacy that comes with components such as chickpeas, beef, curried potatoes, chicken , vegetables and shrimps.
• Pelau- a special delicacy made up of Rice, meat, and pigeon peas.
• Conch- a special recipe that contains
Other special local delicacies you can enjoy on Saint Kitts and Nevis are; Rock Lobster, and Crab back. There are lots of international restaurants that serve local and continental dishes on the Island.
V47T. Where is Saint Kitts Island located. Map.
V47T Saint Kitts and Nevis Islands. Sunrise 12-05-2023 at 10:26 GMT sunset at 21:37 GMT