Steve, VE3OC will be active again from from Turks and Caicos Islands 23 April 2017 as VP5/VE3OC.
He will operate on HF Bands.
QSL via home call direct.
Stephen Gordon Woo, 56 Kerrigan Cres., Markham, ON L3R 7T9, Canada.
QTH - Providenciales Island IOTA NA - 002.
QTH Locator - FL21vs.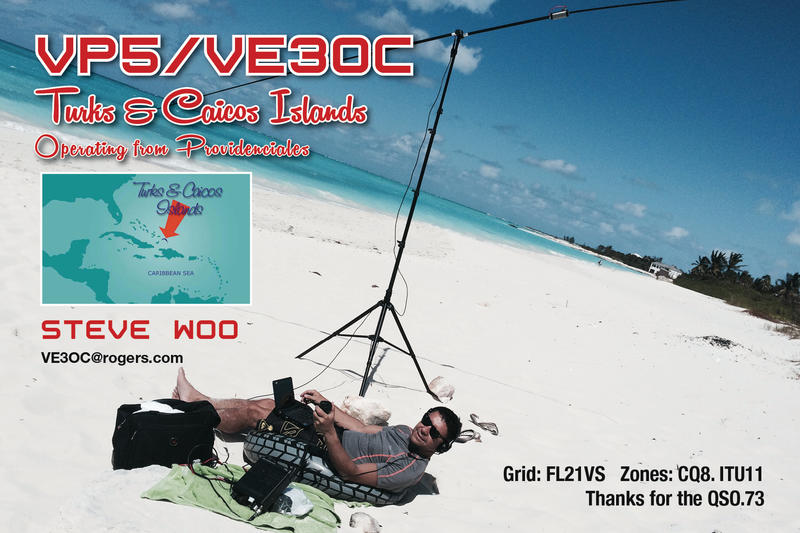 Turks and Caicos Islands. VP5/VE3OC QSL.
Turks and Caicos reflecting the beauty and hospitality of Britain
The Turks and Caicos is actually one of the overseas territories of Britain, which includes large Caicos Islands and the small Turks Islands. This part of the world is generally noted all around the globe for being a strong attraction for tourists also it acts as a prominent offshore financial center. The population which inhabits this region includes 31,500 individuals however, when total population is evaluated including foreigners, then total number gets to 49,000.
The Turks and Caicos Islands actually are situated towards the southeastern part of Mayaguana inside Bahamas chain of island and northern region of the Hispaniola. The Cockburn Town is noted as the capital of this region and it is found in the Grand Turk Island. Total area of this region is 170 sq mi. The island was initially sighted in year 1512 and with the progressing centuries a number of European powers claimed the region and finally the control went to Britain. It should be highlighted that for a long time period this island also was under indirect rule of Bermuda, Jamaica as well as Bahamas. After the independence of Bahamas in the year 1973 this islet got a governor of its own.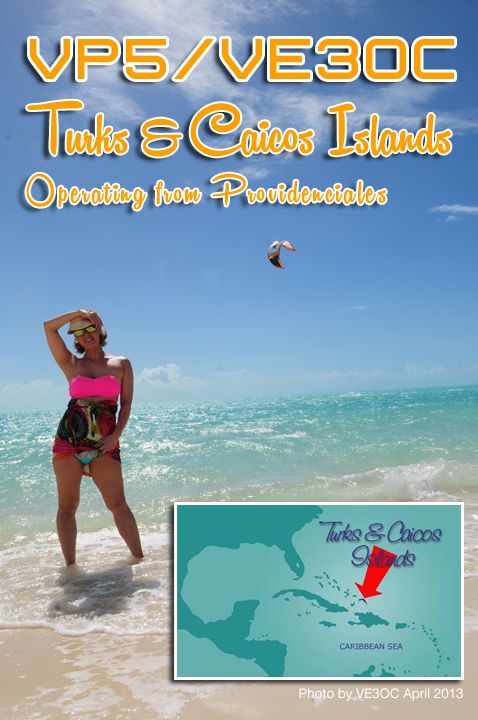 Geographical aspects
Two groups of islands are present in North Atlantic Ocean, situated towards southeastern portion of Bahamas, and it is present at a distance of 1000 km from Miami in US. Geographically this territory is contiguous to Bahamas and both are included in Lucayan group of islands, but this is a separate entity politically. The Bahamian Islands noted as Great Inagua as well as Mayaguana separate Caicos islet from Caiscos passage.
There are 8 main islands and 299 plus smaller islands, these are noted for extending over a region of 616.3 km2. The majority of this region consists of lower, flatter limestone where you will find extensive marshes as well as swamps. Climatic conditions are dry and sunny, but hurricanes are also very common. These islands are unfortunate in a sense that limited sources of fresh water are present here. Two different groups of islands are being differentiated by Turks Passage.
The Turks islets are differentiated from Caicos Islands by the noted Turks island passage. These islands are noted for forming a chain which is stretching from north to south. The information collected by reliable sources indicated towards the point that a total of 4939 individuals live in this region. The inhabited islands included in this group are Salt Cay and Grand Turk.
The largest island, which is included in the Caicos Islands, is the Middle Caicos, which is extended over an area of 56 sq mi, but the information, which was collected in the year 2010 indicated towards the point that only 168 individuals live in this region. Providenciales is considered as the most populated island, which according to the estimates of 2012 has 23,769 individuals.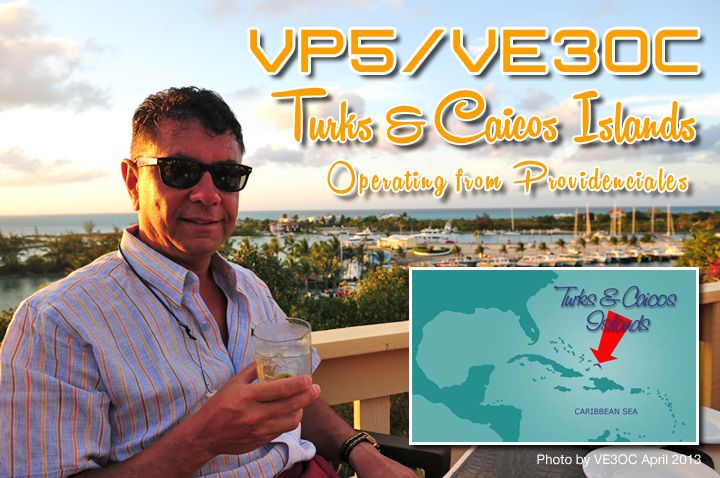 The climatic conditions
The Turks and Caicos is noted for having climatic conditions, which are considered as favorable by tourists. The region has dry as well as sunny marine tropical climate which has temperature that stays constant throughout the year. During summers temperature rarely gets more than 33 degree centigrade and temperature during winters fall below 18 degree centigrade. In every season the temperature is suitable and attracts the attention of tourists to a greater degree.

Demographic detail
It has been mentioned above that eight islands out of thirty are populated and total population is approximately 31,500. One third of total population is under 15 year age group and four percent includes those who are either are 65 years of age or are older. The estimates collected in 2000 suggested that population growth every year was 3.55 percent and the infant mortality rate was approximately 18.66 deaths/ 1000 live births. The results obtained from surveys that were carried out in 2012 showed that this region is supporting a population of approximately 31, 458 individuals and of these 57.5 percent of the adult population consists of immigrants.
Language which is spoken by majority here is English, but locals also use Turks and Caicos Islands' Creole and this shows great similarity with Bahamian Creole. Another interesting point to mention here is that due to closer proximity with Hispaniola and Cuba larger Haitian Creole as well as Spanish using groups have settled here because of immigration.
Religious beliefs and related aspects are given great priority here by masses and data collected by reliable sources indicated towards the point that following percentage of followers of different religions is found in this area.
Baptists 35.8 percent
Members of Church of God 11.7 percent
Catholics 11.4 percent
Anglicans 10 percent
Methodists 9.3 percent
Seventh Day Adventists 6 percent
Jehovah's Witnesses 1.8 percent
Others 14 percent
People live with peace and harmony in this region also there is religious liberty given to all by the governing authorities.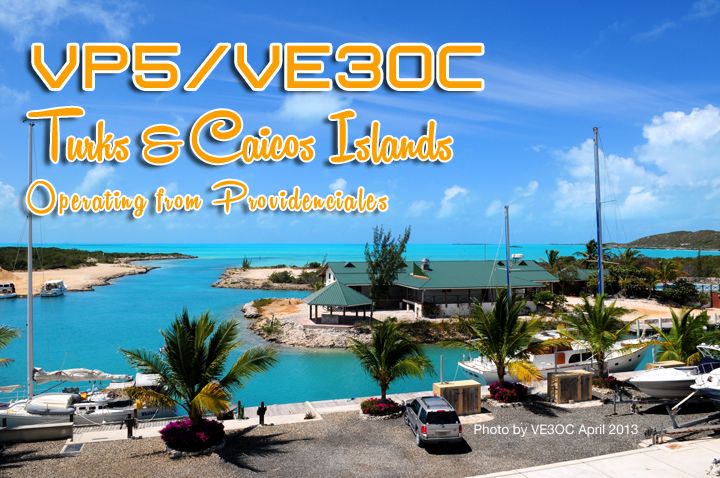 Culture of the region
These islands are well known for their ripsaw music and this is something for which they are appreciated all around the globe. The annual cultural festival as well as music showcasing is very popular where you get witness the local talents. The tourists and other visitors are entertained with interesting show of talent and skill by the participants. Women make baskets as well as hats using straw and this is a tradition, which is being followed for a long time.
The most popular sports of this island include following
Fishing
Sailing
Football
Cricket (this is also the national sport)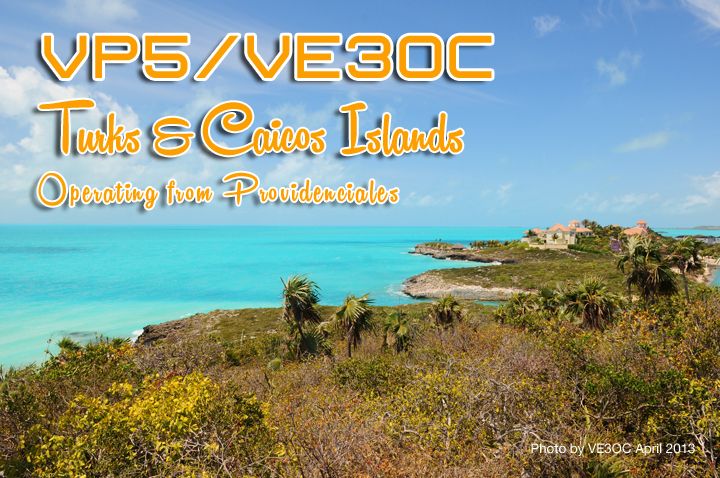 Educational system is properly developed as education is free for Children who are aged 5 to 16 and primary educations continues for a period of five years. The tourism sector is well developed and people from different parts of the globe prefer to visit this wonderful location because of its beauty and hospitality. Natives are hard working and sweet also the economy of this region stays steady and grows positively. In short, Turks and Caicos are wonderful creations of nature, which have a charm of their own.
Video Turks and Caicos Islands


Video Turks and Caicos 2
VP5/VE3OC. Where are the Turks and Caicos Islands located. Map.
VP5/VE3OC Turks and Caicos Islands. Sunrise 09-27-2023 at 10:36 GMT sunset at 22:40 GMT