Greetings from the Intrepid DX Group VP8STI/VP8SGI Team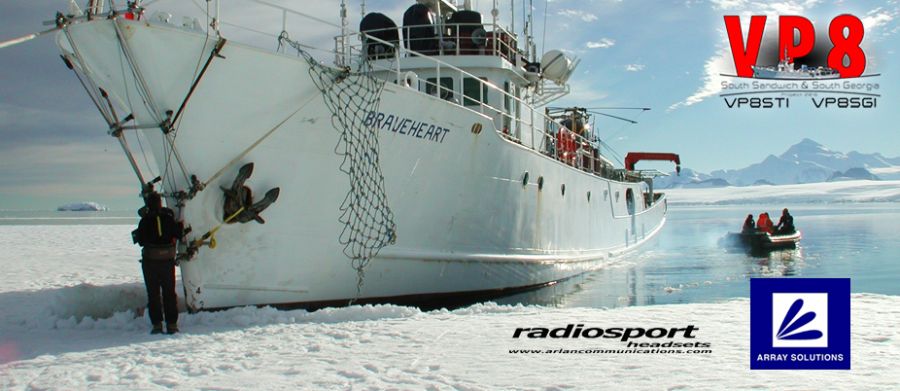 We are pleased to report that the R/V Braveheart has arrived in Stanley, the Falkland Islands and is making preparations for the arrival of the VP8STI/VP8SGI team. The Braveheart is taking on 90,000 liters of fuel and enough provisions for their 36 day voyage with the Intrepid VP8 team.
At 59 degrees South, Southern Thule in the South Sandwich chain of islands is closer to the Antarctic Circle than either Heard Island (53 degrees) or Bouvet Island (54 degrees) The climate will be cold and harsh with strong winds. Current weather in Southern Thule is -2 degrees C with moderate winds. After camping in tents on Southern Thule for ten days, our team will voyage to South Georgia Island and set up camp for an additional ten days.
Our goals are to operate fast and efficiently and to provide as many all-time new contacts with these rare entities. We will make the extra effort to work the most remote and difficult regions.
All of our plans are going very well. We have raised 74% of the funds needed to complete our Dxpedition. We are very grateful for all Foundation, Club and Individual support.
We have updated our QSL page and OQRS will be live as soon as we complete each activation. We will make every effort to upload our logs to Clublog each day. We expect to have challenges in doing so as at 59 degrees South, Southern Thule Island is outside of the Inmarsat BGAN coverage footprint.
We are very excited to be activating the #3 and #8 most wanted DXCC entities on a combined trip.
Upon our return to Stanley, the team will operate as VP8IDX for five days with an emphasis on 160 meters.
Please watch for updates and announcements in The Daily DX, DX-World, DX Coffee and DXNews.com.
Thank you, and Happy New Year!
Paul N6PSE
Co-Leader, VP8 Team