N6PSE, K3LP, RA9USU, JH4RHF, K1LZ, WD5COV, K9AJ, K4ZLE, DL6KVA, AA7A, N4RR, W5XU, W6DR, W7XU will be active from South Georgia Island 1 - 9 February 2016 as VP8SGI.
They will operate on all HF bands CW, SSB, RTTY.
QSL via KU9C, LOTW, OQRS.
Ads for direct QSL:
STEVEN M WHEATLEY, KU9C, PO BOX 574, MORRISTOWN, NJ, 07963-0574, USA.

VP8SGI News 9 February 2016
After the storm comes the calm and VP8SGI was able to went back to Husvik Bay and collect all their gear during past Sunday afternoon.
Full VP8SGI log was uploaded and OQRS is running. For VP8SGI log inquiries please contact KU9C.
Braveheart is sailing at full steam heading Falklands Is, where VP8 team
will arrive around next weekend.
More news about VP8IDX operation from Falkland Is, will come later.

EA5RM - VP8STI/VP8SGI Chief Pilot
VP8SGI QRT
Past night they had a big storm and VP8SGI members went back to Braveheart for security reasons.
Everybodyis OK and now, they are waiting a weather change to dismount and pack everything.
Last log file will be uploaded from Stanley, Falkland Is.
VP8SGI now is QRT.
EA5RM - VP8STI/VP8SGI Chief Pilot
VP8SGI News 08.44 GMT 7 February 2016

VP8SGI team back on Braveheart. Big storm now. Everyone is ok. More news later.
EA5RM
VP8SGI News 6 February 2016
Today I was in contact with N6PSE from early morning. We exchanged a lot of messages while they are in the middle of a big storm with high winds and snow.
It seems that South Georgia weather does not want to give them a rest.
ATNO plans are going to change due propagation is shifting day to day.
Tomorrow, February 7th, they will be asking for ATNO contacts time to time on any band so please, follow operator instructions and respect to those for whom VP8SGI is still an All Time New One.
We did not speak about 6 meters but plans for this band are still the same, if there is an available radio during his afternoon-evening, Paul will call me via Iridium Satellite few minutes before to start to call on 50.110Khz so check DX Cluster spots.
I asked them for an earlier 160 meters activity looking to Western Europe and also to take profit of Grey Line with East Coast and it seems they are going to be on the Top Band earlier than previous days.
In my last press release, I stated that this project exceeds $215.000. Well, VP8 project budget is $425.000, team members contributed with $210.000.
They are very grateful to all sponsors and individual donors who will helps them to cover remaining $215.000

EA5RM - VP8STI/VP8SGI Chief Pilot
VP8SGI News 5 February 2016
EA5RM provide information to dxnews.com
Today is day 8 at VP8SGI. We are pushing forward to our goal of 80,000 contacts from the South Georgia Islands. The ten and twelve meter bands are very good today.
Our biggest challenges are the high winds which are destroying our antennas and tents and the many out of turn callers that continually call while we are trying to work others. We are particularly frustrated by those European callers that continue to call as we are trying to work to Asia/Japan. Please lets all show our best Ham Spirit over the next three days so that everyone has a chance to work VP8SGI. On Sunday, we will be seeking ATNO (all time new one) contacts on 17 meters SSB. We will QRT on Monday morning (local time).
At this point, I want to remind everyone that the VP8 team members left their homes on January 7th, and they expect to be back at home around February 22nd. More than 45 days out of home, working and risking their lives in one of the hardest places of the World, trying to give us three new DXCC countries, two of which are in the highest part of the most wanted list, in a project that exceeds $215,000. So please, let's help them to reach their aim by following operator instructions and respecting other callers.
Paul will try to do first six meters QSO during their afternoon and evening time (local time). Take a look at my spots on the DX Cluster Network. Paul will call me by Sat phone a few minutes before he starts to call CQ on 50.110 MHz.
VP8SGI News 4 February 2016 15.30 GMT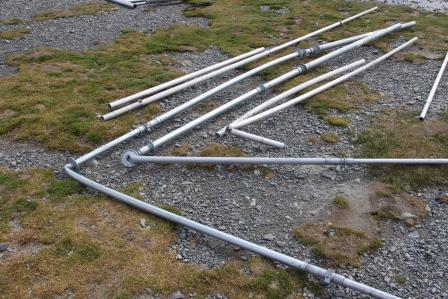 Right now, VP8SGI team is working on tents and antennas repairs. Due to the strong winds, they have lost two masts. Tri-bander antennas are on the ground and Six meters antenna mast will be used to rise one of the tri-bander.
After antenna works, they will be again on the air pushing hard to get everyone in the log. N6PSE will try on six meters SSB today if he finally is able to find a pipe where to install 6 meters antenna.
New pictures will be posted later today in our website.

VP8SGI News 4 February 2016
Yesterday they had high winds and some antennas and tents were damaged. Today they will do QRT during 4 or 5 hours starting around 1PM local time, while they are repairing antennas and tents. More news ahead.
EA5RM - VP8STI/VP8SGI Chief Pilot
VP8SGI News 3 February 2016
Today is day six on South Georgia Is. VP8SGI will do QRT at sunrise on February 8th.
They are experiencing a G1 geomagnetic storm. This is greatly impacting the higher bands. However, VP8SGI team will continue to push forward.
The weather continues to be cold and windy. It is snowing and their noise level
is higher than usual.
Tonight they will continue their major effort on the low bands including 160 meters.
They are planning to be QRV on 17 meters SSB during next Sunday for those that need an ATNO contact with VP8SGI.
Due the difficult is being for VK and ZL stations to work South Georgia on RTTY on 15 and 30 meters, tomorrow from 09:30 to 12:30z they will be on 14.080 RTTY listening up only for VK/ZL and Oceania stations.
Today they will try again on six meters.
Yesterday, EA3GP was able to listen VP8SGI signal on 50.110 SSB. Probably today they will try on 50.110 CW around 16:00 to 18:00z and once again around 20:00 to 22:00z.
Due they have not a beacon system, I will try to post on DX Cluster each time they will be calling CQ.
They are working very hard to work everyone and they hope to see you in the log.
Best wishes from the Intrepid DX Group VP8SGI team.

EA5RM - VP8STI/VP8SGI Chief Pilot
VP8SGI News 1 February 2016
They had a windy day, 60 knot, and some antennas fell down but they were able to fix damaged antennas.
VP8SGI manager, KU9C, will not be able to change log at this time. If your QSO is not in our log, work them again. In case you have not been able to repeat missing QSO, feel free to contact KU9C at vp8sgi_logresearch@yahoo.com for log inquiries after VP8SGI QRT.
EA5RM - VP8STI/VP8SGI Chief Pilot
VP8SGI News 31 January 2016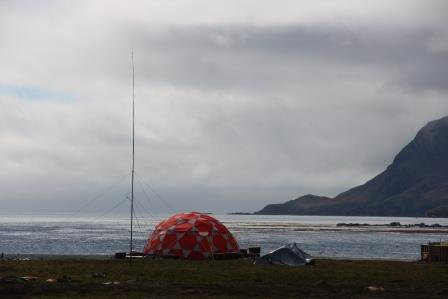 EA5RM send message to dxnews.com
Today, VP8SGI team were running 6 stations at the same time.
Paul, N6PSE describes South Georgia Is. as an amazing, very beautiful, windy and cold place. They are surrounded by Penguins and young Seal pups.
Check our website for additional photos.
First Top Band QSO were not easy due CQWW Contest past night. Tonight they will be once again on 160 meters. Their phased verticals seems to work very well. Special effort will be done on Low Bands.
20SSB laptop was running out of time yesterday. Problem was located and they were working on this issue today.
Today is day 3 as VP8SGI and they will depart from South Georgia on February 8th.

The Intrepid DX Group VP8 team send you their best wishes from Husvik Bay- South Georgia Islands.

VP8SGI First logs have been posted to Club Log
VP8SGI News 30 January 2016
VP8SGI is running with five stations at the same time. Good reports are coming from EU and NA after first operation day. They are going to keep the five stations on the air as much as possible. Biggest problem for them today are the out of turn calls coming specially from EU and NA, so please, lets help them to run the pile-up.
Tonight they will be QRV on 160 meters outside CQWW Contest. Later today we expect to have first log upload and first pictures from Husvik bay.
EA5RM - VP8STI/VP8SGI Chief Pilot
VP8SGI QRV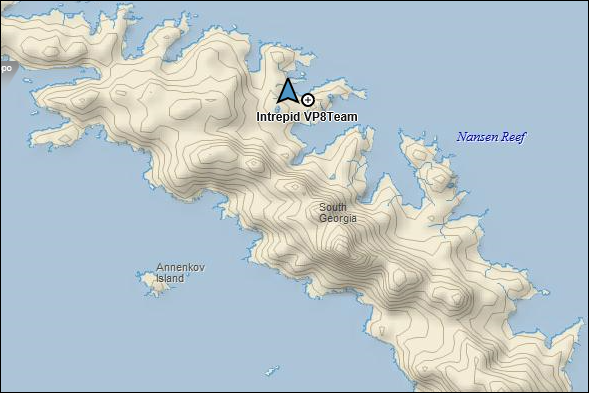 VP8SGI News 29 January 2016 12.00 GMT
VP8SGI arrived few hours ago to South Georgia Is.
They have very good weather and they started to work on antennas and shack set up.
They expect to be on the air in two or three hours.
EA5RM - VP8STI/VP8SGI Chief Pilot
VP8SGI News 28 January 2016 EA5RM
VP8SGI team expects to arrive early tomorrow to Husvik Bay, South Georgia Is. If everything goes well, they will be on the air tomorrow afternoon, South Georgia time.
VP8STI final log will be uploaded from South Georgia. Our manager N2OO, will turn on OQRS once we get those last log files and we make sure that the full log is complete. QSL updates will be posted on the VP8STI QRZ page.

EA5RM - VP8STI/VP8SGI Chief Pilot
VP8SGI News 28 January 2016
David, K3LP, co leader of the VP8STI/VP8SGI DXpedition, called me via satphone about a half hour ago from the Braveheart.
David sounded tired (no surprise!) but in good spirits. He reported that the Force 12 antennas and 4O3A triplexer and diplexer systems worked great and came through the storm without damage and will all be redeployed on South Georgia shortly.
David reported that they received two to three feet of snow to go along with the 70 mph winds. That's summer at 59 degrees south for you!
73 Bill AA7XT
VP8SGI News 27 January 2016
Team are in good shape but tired.
They on the way to South Georgia.
Final VP8STI Log will be uploaded from South Georgia Island.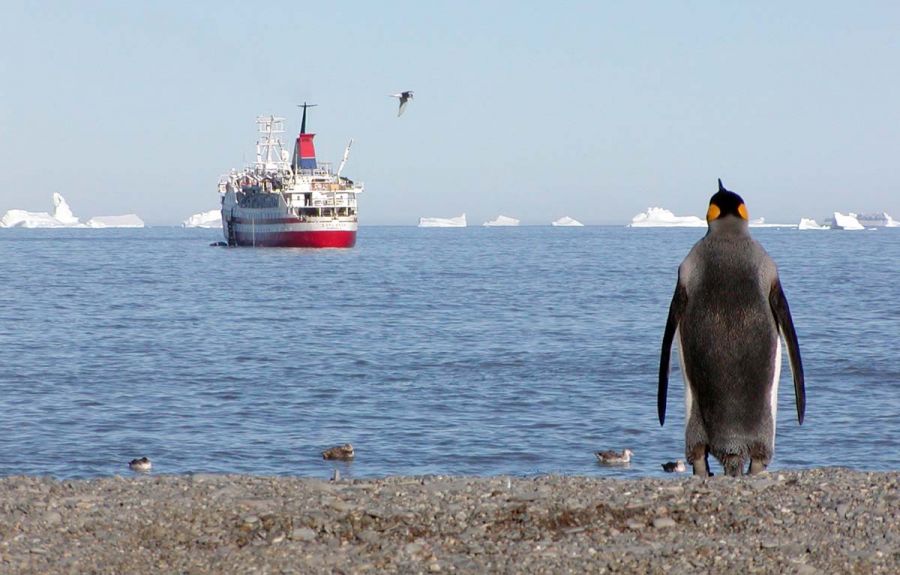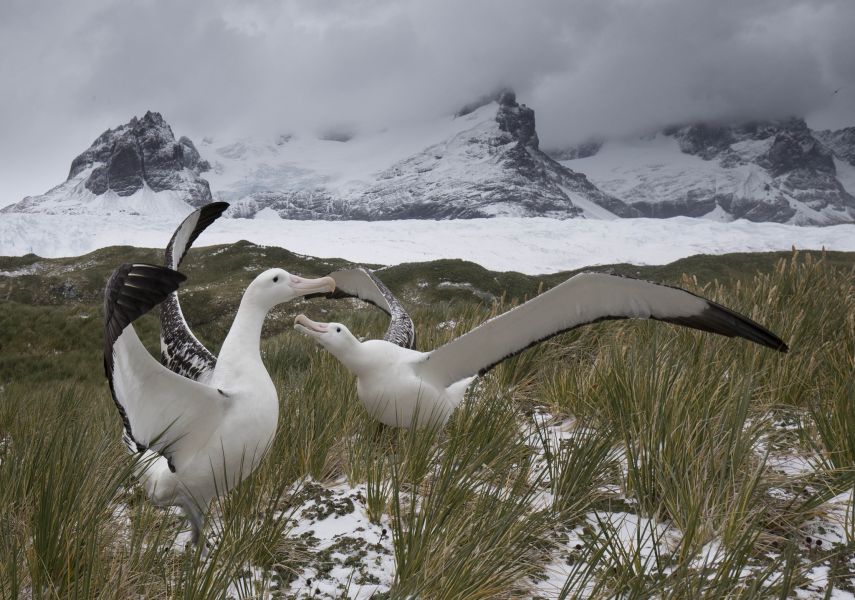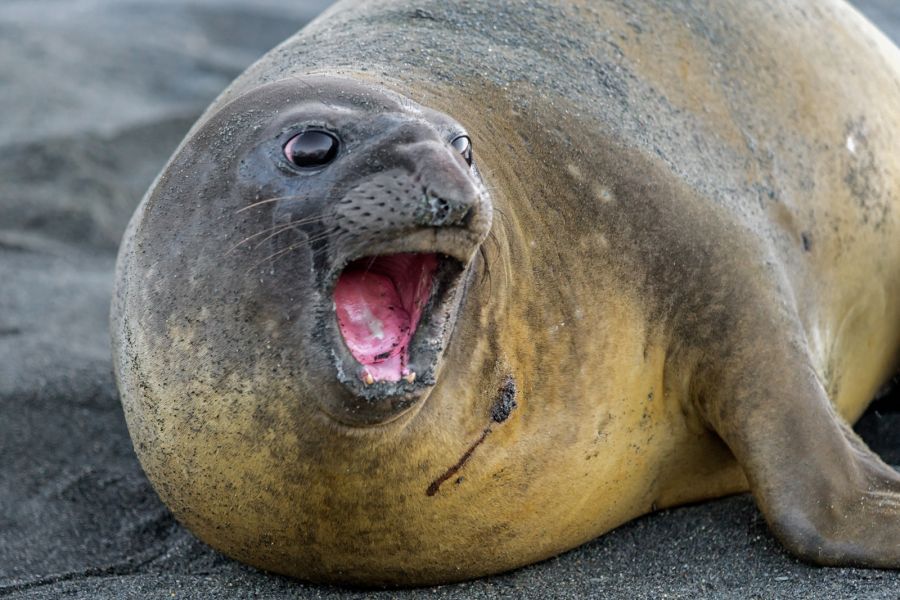 VP8SGI DX Pedition Video
Video VP8SGI South Georgia Island
VP8SGI. Where is South Georgia Island located. Map.
VP8SGI South Georgia Island. Sunrise 12-05-2023 at 05:46 GMT sunset at 22:47 GMT