N6PSE, K3LP, RA9USU, JH4RHF, K1LZ, WD5COV, K9AJ, K4ZLE, DL6KVA, AA7A, N4RR, W5XU, W6DR, W7XU will be active from South Sandwich Islands (IOTA AN-009) 18 - 27 January 2016 as VP8STI.
They will operate on 160 - 10m CW, SSB, RTTY.
QSL via N2OO, OQRS, LOTW.
Ads for direct QSL:
ROBERT W SCHENCK, N2OO, PO BOX 345, TUCKERTON, NJ 08087, USA.
They will operate from Southern Thule Island.
DXCC country - South Sandwich Islands.

VP8STI News 31 January 2016
Bob, N2OO QSL Manager of VP8STI, informs any log enquiry should be send to vp8sti_logresearch@yahoo.com
VP8STI News 29 January 2016
The full VP8STI log uploaded to Club Log.
OQRS turned on.
VP8STI News 27 January 2016
Finally yesterday, team was able to collect all gear from Thule Is.
All team members are OK and they are on the way to South Georgia where they will arrive after three days sailing.
They will try to be on the air during eight days as VP8SGI.
Personally, I want to thanks to all who send support messages to us, expressing their concerns about VP8STI team situation.
EA5RM - VP8STI/VP8SGI Chief Pilot
VP8STI News 26 January 2016
Camp dismantled by the team members.
No information about VP8SGI activity.
More information will be available soon.
VP8STI 27 January 2016
According to latest information Braveheart crew is dismantled camp.
Team is on the way to South Georgia.
VP8STI News 25 January 2016 22.00 GMT
Today at 21:20 UTC, Nigel Jolly, Braveheart owner, declared an emergency and ordered to VP8STI team to cease all operations and return to the ship.
A large ice flow that had broken away due last nights storm starts to block the entrance to the Bay where they were camped. There was strong potential for the ice flow to prevent Braveheart to get them.
Team is now safely aboard the Braveheart and they are moving away from Southern Thule Is. All the equipment and personal gear is still on the island. They hope to return to camp site during next good weather window.
Once they retrieve their equipment, they could make a determination as to whether they can proceed to South Georgia to do VP8SGI as planned.
VP8STI QRT !

Video VP8SSI problem with WX
VP8STI News 25 January 2016 19.00 GMT
VP8STI team plans to be active tonight on 160 meters CW and 40 meters SSB.
VP8STI News 25 January 2016 15.23 GMT

Evebody is OK after worst part of the storm has passed.
They made antenna repairs and they will be on the air with four stations until tomorrow morning.
EA5RM - VP8STI/VP8SGI Chief Pilot
VP8STI News 25 January 2016
Past night two tents and most of the yagis were destroyed by high winds. Both of their main tents collapsed partially and the team worked very hard through the night to save them.
The Braveheart recorded winds of 70 mph (112 Kph). They are running only on 40 meters due antenna damage.
Once they can assess damage they can determine whether they can proceed to South Georgia or not.
Right now they are doing last QSO as VP8STI due they have asked the Braveheart to extrac them when it´s possible.
They regret that they have fallen short of their plans , however the team and crew safety is most important.

EA5RM - VP8STI/VP8SGI Chief Pilot
VP8STI News 24 January 2016
Since early this morning, we have been experiencing blizzard like conditions with strong winds and heavy snow fall. Some of our antennas have become damaged by the high winds and the snow fall is making access to them very difficult. It is also increasingly difficult to re-fuel our generators.
Our biggest concern is our four tents, one of which has already been damaged by the high winds. We are in VHF communications with the Braveheart and we are discussing contingency plans to abort or shorten the DXpedition if safety requires.
The Braveheart is unable to maintain their anchor position and is moving out to sea. We are currently active on three stations however we are becoming increasingly less confident that we can maintain this activity. Please know that we are doing our best under extreme circumstances to make contacts with the global DX Community. This DXpedition has thoroughly tested each member physically, mentally and spiritually. We pray for a safe return.
We hope that we can continue however we feel the need to inform you that our activity may abruptly come to an end in the name of safety of our team and the crew of the Braveheart.
VP8STI News 23 January 2016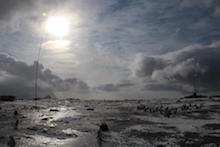 They are having significant BGAN issues but they will try to upload logs daily.
On 26th, VP8STI team will start to dismount high bands antennas and they will be on the air on low bands until January 27th morning. Departure to South Georgia will be on the afternoon of the 27th on the way to the #8 most Wanted DXCC. They expect to arrive to Husvik Bay on the 30th afternoon so most probably they will start operation from South Georgia on the 31th.
EA5RM VP8STI/VP8SGI Chief Pilot.
VP8STI News 21 January 2016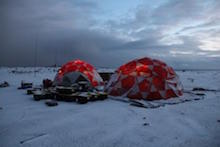 Today they had a severe black out on the high HF bands due a solar storm.
During the afternoon team was able to finish 6 meters antenna setup and first CQ was done.
Finally there will not be 60 meters operation in adherence with IARU region band plan.
VP8STI News 20 January 2016 16.45 GMT
VP8STI wil be on the air today using the frecuencies listed below:
USB TX: 5403.5 RX: 5.371.5
CW TX: 5405 RX: 5373
Operation schedule was not confirmed but they will try during Thule Is. darkness hours.
EA5RM - VP8STI/VP8SGI Chief Pilot
VP8STI News 20 January 2016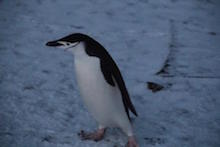 Finally 160 antenna system is ready so tonigth they will be QRV on Top Band.
Tonight plan also include to be QRV on 80 meters for JA.

EA5RM - VP8STI/VP8SGI Chief Pilot
VP8STI News 19 January 2016 20.50 GMT
Hello Al, first upload was already done few minutes ago.
Inmarsat signal is too low in Thule Is , this is the reason because
we didn´t it before.
EA5RM - VP8STI/VP8SGI Chief Pilot
VP8STI News 19 January 2016
At the time I am sending this update, team is working on 80 meters antenna setup. A new storm is coming so lets hope they will be able to finish the work on time to be on the air tonight on this band. 40 meters four square is working, they had big signals last night. They expect to raise 160 meters phased verticals tomorrow.
EA5RM - VP8STI/VP8SGI Chief Pilot
VP8STI News 18 January 2016
VP8STI is active now.
Tents and antennas setup. Six stations are planned.
They operating freqs:
CW 1826.5, 3523, 5405/5373 (tx/rx), 7023, 10105, 14023, 18079, 21023, 24894, 28023, 50105.
SSB 3790, 5403.5/5371.5 (tx/rx), 7082, 14185, 18130, 21285, 24944, 28485, 50105.
RTTY 3580, 7045, 10142, 14080, 18099, 21099, 21080, 24912, 28080.

VP8STI News 17 January 2016
The all of the team landed on the Southern Thule Island, South Sandwich. They have some minor difficulties with landing and are now setting up their tents and antennas and ther rest of the camp. They hope to have 2 or 3 stations QRV by late today.
Greetings from the VP8STI Southern Thule Island. We are now QRV with three stations and expect more stations to be QRV shortly. Our landing yesterday was very difficult. The initial team on the island had to wear wetsuits and go onto the rocks to establish safety ropes for team and equipment. One team member and one generator went into the ocean. The team member is recovering. The generator is not. The seas are very rough which makes bringing supplies to the island very dangerous. We are experiencing high winds and some snow. We are currently working through several critical issues:
1) Voltage sags on our three generators are causing our K3′s to experience problems.
2) We are missing parts to some critical antennas.
3) We are down one 6KW generator until the Braveheart can bring a backup generator.
We are still actively raising antennas and we hope to be QRV on 30, 40 and possibly 80 meters tonight. We plan to upload logs to Clublog each day starting tomorrow. Please know that we are doing our best under very difficult conditions and we hope to see you in our logs.
VP8STI News 17 January 2016 01.00
They driving in circles waiting for daylight to shore. Early morning they will start camp and set up.
They expect to be on the air late afternoon.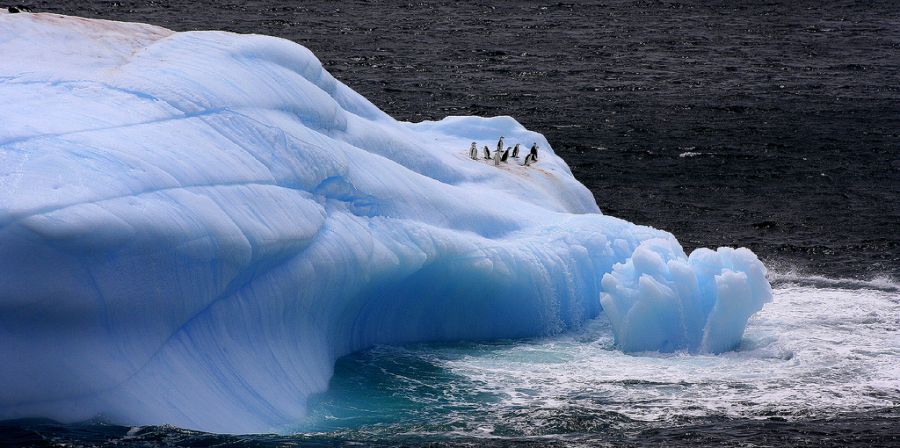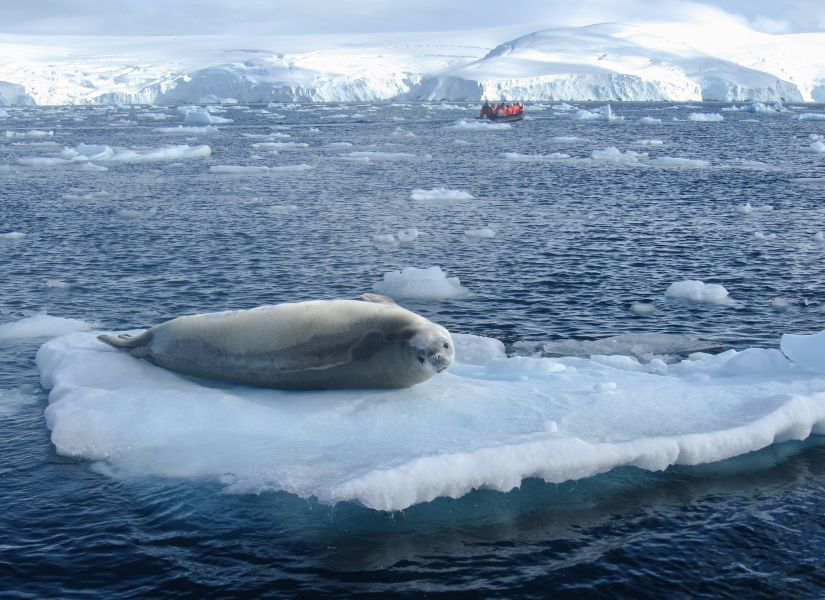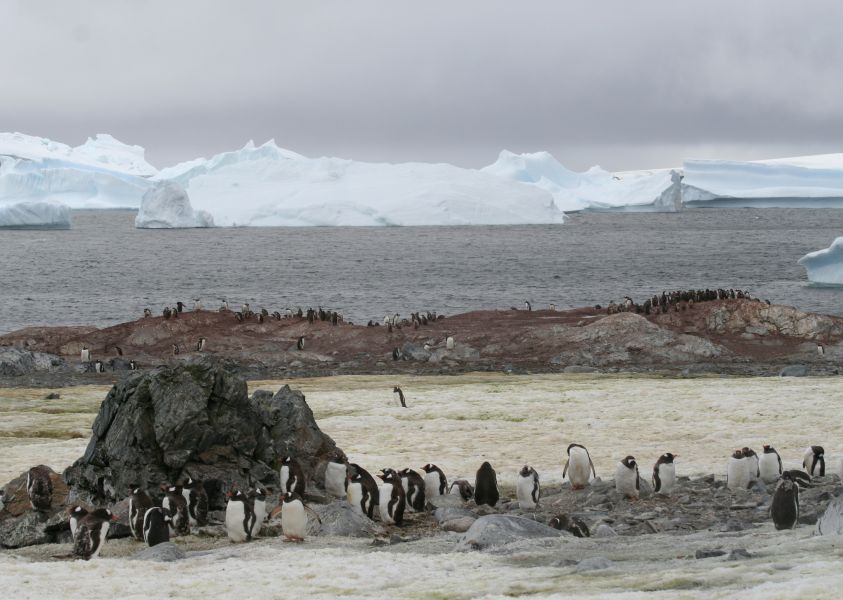 Video VP8STI
VP8STI. Where Southern Thule Island is located. Map.
VP8STI South Sandwich Islands Southern Thule Island. Sunrise 11-29-2023 at 04:36 GMT sunset at 22:37 GMT