WRTC 2014 Profile - Ashraf Chaabane, KF5EYY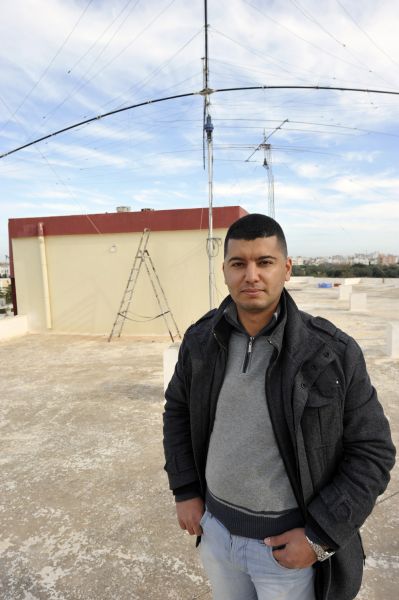 Ashraf on the roof of 3V8SS in Sousse, Tunisia.
He is number one on the list of competitors in WRTC2014, representing Africa in Team AF. He is also the only participant from this huge continent, apart from two referees from South Africa. This is a paradox of short wave contesting - the highest scores in worldwide contests are generated in Africa.
Ashraf is 30 years old and now lives in Tunis, the capital city of Tunisia. Tunis is located closer to mainland Europe than Malta, which is considered Europe. So maybe he is not so African, after all. There are more absurd things about this 100% Tunisian radio enthusiast. In spite of qualifications, experience, passion and preoccupation with the national Amateur Radio organization, Ashraf cannot get an individual licence and call sign in Tunisia. So when he was in Texas, USA four years ago, Ashraf passed a test and got a FCC Licence and the call KF5EYY.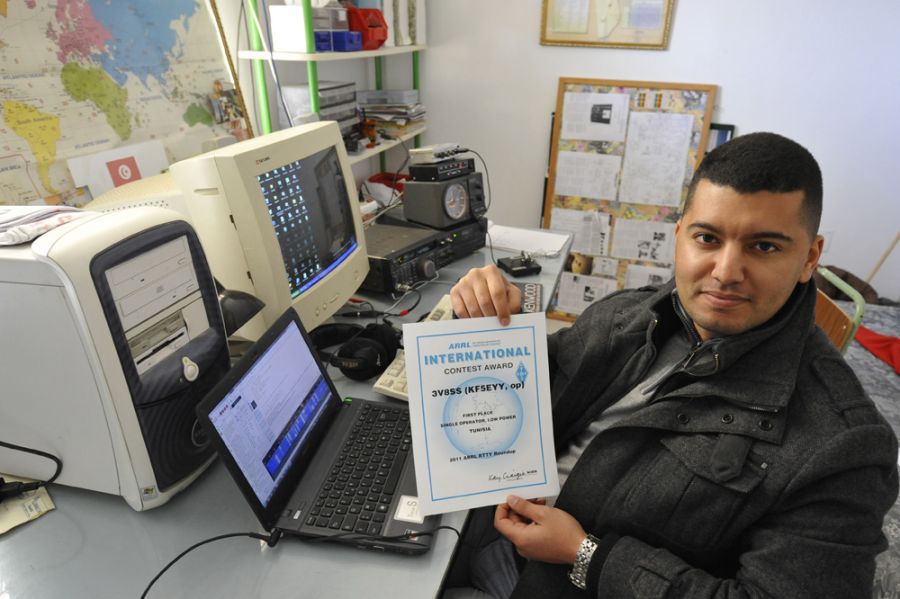 One of many hard-earned awards of Ashraf, KF5EYY at 3V8SS.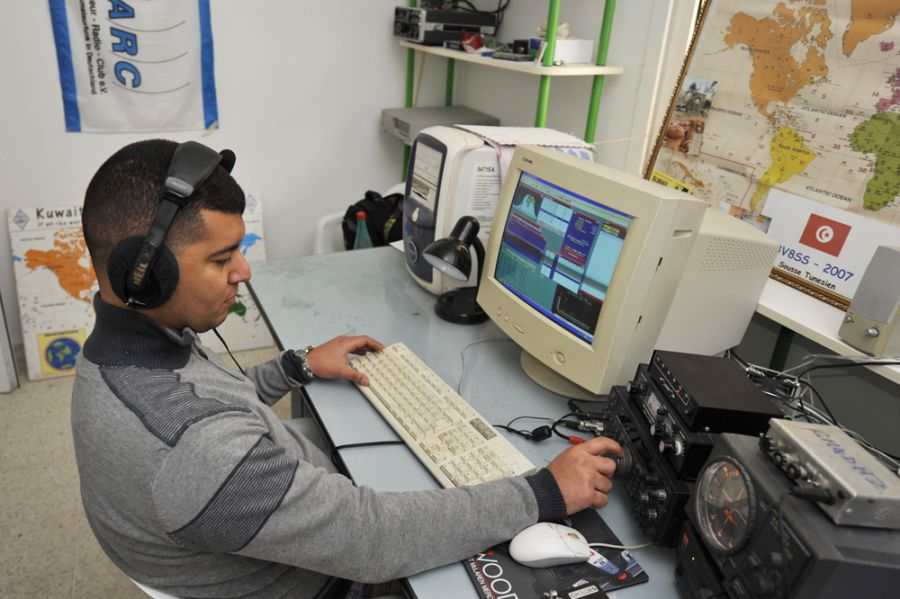 The equipment at 3V8SS is modest and rather old.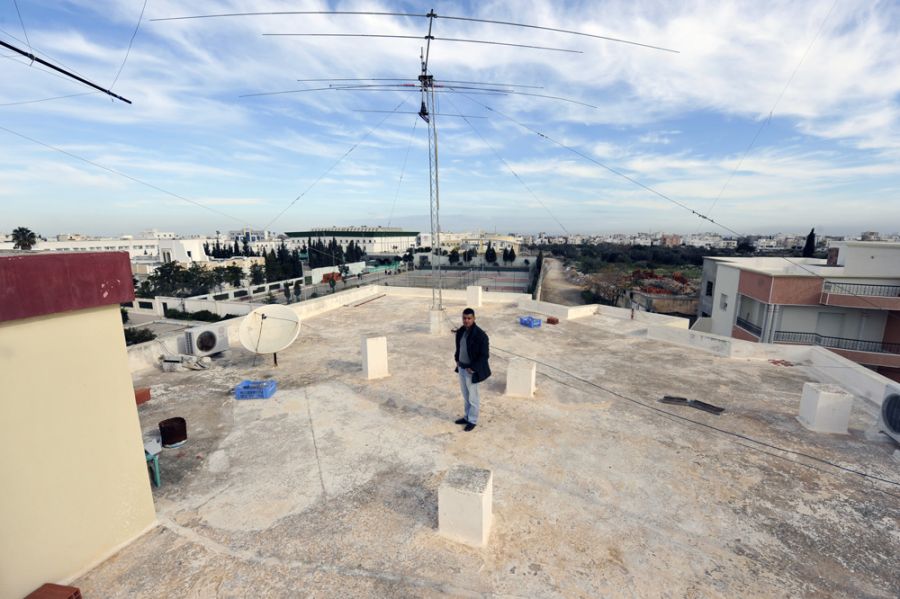 The roof of the Scouts House in Sousse is flat and ample.
Some time ago we heard about a "revolution" in Tunisia. People expected changes, and the local radio amateurs tried very hard to create a modern organization and influence the pertinent legislation. So far, nothing has changed. I guess the revolutions are made by the people, but not for the people.
Ashraf was born on the Kerkennah archipelago off the coast of Tunisia. He met visiting radio amateurs when he was 18 years old and became interested in this hobby. Eventually he was engaged in radio clubs which were organized by the Tunisian Scouts. One club station was in a town called Sfax, near the islands. Later he became involved in the club station 3V8SS in Sousse, a town on the coast, half way between Sfax and Tunis. I met Ashraf at this club station when he came from Tunis for a weekend.
When he lived in Sousse the 3V8SS station was very active. Ashraf quickly learned the secrets of contesting and was making progress very fast. The station was supported by visiting tourists and other sponsors. This is a very positive thing when visitors help local enthusiasts to advance both the hardware and the technique. During a few years at 3V8SS Ashraf made excellent scores in international contests and these results drew the attention of Hrane, YT1AD, who is in charge of the 3V8BB club station close to the capital. More recently Ashraf has been active from this station, both as a single operator and a member of a team. The antennas at 3V8BB are better than at 3V8SS.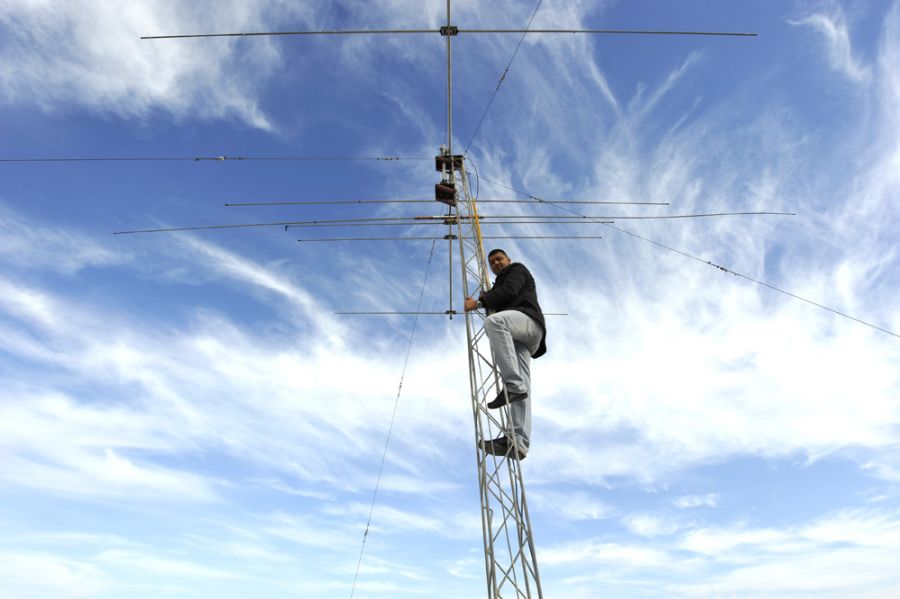 Inspecting the tower equipped with a rotator that Alexander, 4L5A, donated to the club.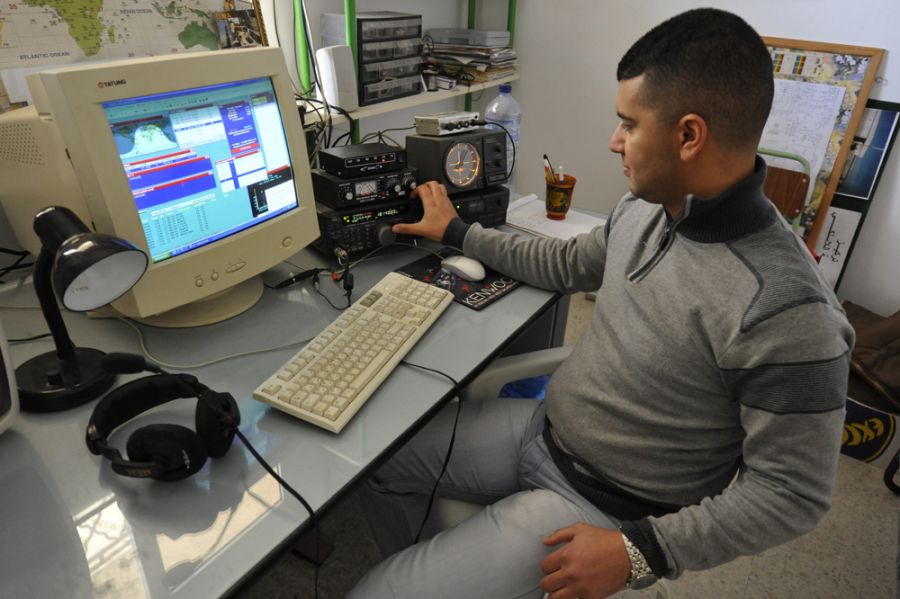 The operating position of 3V8SS. The worst thing for me was the Arabic-French keyboard.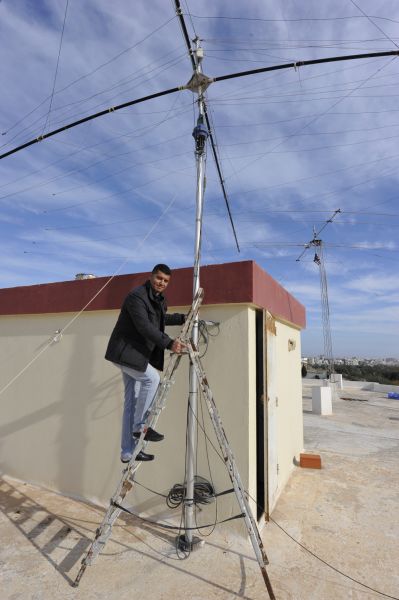 This antenna needs an overhaul now, a SpiderBeam installed by visitors from Germany.
The second member of Africa Team in WRTC2014 is Hrane, YT1AD, who has achieved the qualifying contest scores mostly from 3V8BB in Bir El Bay, east of Tunis. It is going to be a tough task to compete in New England, where the propagation is so different from what the Africa team is used to.
Text and photographs
Henryk Kotowski, SM0JHF
2014 05 11