Sadao Ito, JA1PBV is currently active as XW5SI from Vientiane, Laos.
He will operate on 40, 20, 17, 15, 12 and 10m Bands.
Recent DX Spots XW5SI
XW5SI Log search QSL via ClubLog.
Laos

Laos, located in Southeast Asia, is one of the most mysterious countries in the region. The first states on the territory of modern Laos began to form during the Middle Ages. The peculiarity of this corner of Asia is a large number of tribes and peoples who have lived here since ancient times.
In the old days Laos was dependent on Siam, then it was a part of French Indochina. The country gained independence in 1949. With the support of the USSR, the Lao People's Democratic Republic was proclaimed in 1975. This is how the country is officially called today.
Tourism potential: neither large nor small

The country has a fairly high tourist potential. Laos is able to interest many travellers, although unlike Thailand and Vietnam, its neighbouring countries, there are no sea beaches here. To get acquainted with Lao sights will be interesting first of all for connoisseurs of wildlife and lovers of cultural and educational holidays.
At present Laos is home to about 6.5 million people representing almost 70 nationalities. A trip to this country guarantees vivid impressions for tourists who are fond of history and ethnography. A large proportion of Lao people are Buddhists. Many Buddhist temples are among the main attractions of Laos.
About two-thirds of the country is covered with forests, which can delight tourists with rich flora and fauna. Popular among visitors to Laos are jungle tours on elephants, lasting one or two days. Wildlife lovers can see Indian elephants, deer, buffalo, gibbons, macaws, parrots, peacocks and other representatives of local fauna in their natural habitat.
There are many mountains, cliffs, caves and waterfalls in this country, attracting supporters of active holidays and lovers of natural monuments. The natural gem of Laos is the Mekong River, which flows along the country's border with Thailand and Myanmar. This famous Asian river attracts lovers of fishing and water walks on authentic boats.
The most comfortable holiday is guaranteed in the dry season, which lasts from November to April. In May-October there are often heavy rains. In the Mekong valley and in the mountainous areas, temperatures differ markedly. In Vientiane, the capital of Laos, located on the banks of the Mekong, daytime temperatures throughout the year range from +27 to +32 °Ñ.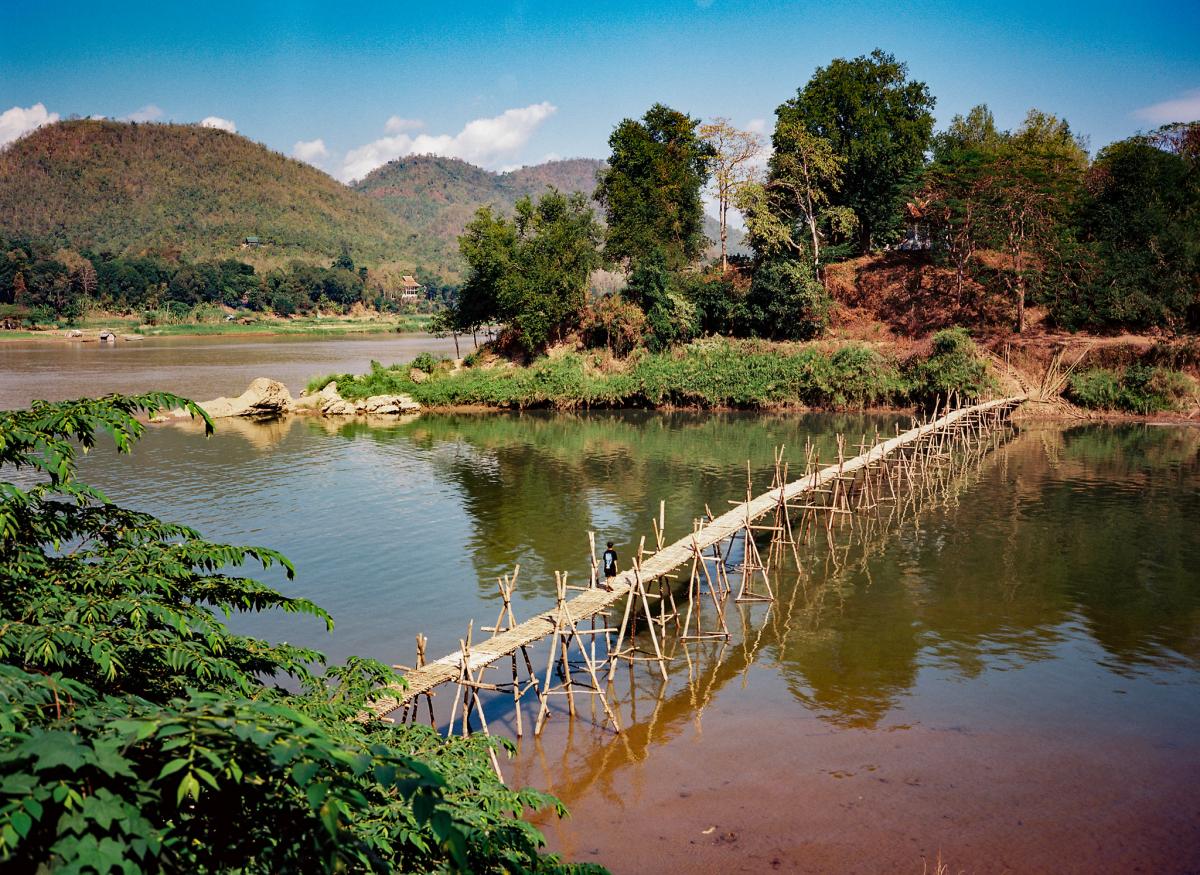 Laos. Author - Ben Howe.
The charm of the ancient capital of Laos

Luangphabang, the ancient capital of the country, is of most interest to fans of sightseeing holidays. This city, located at the confluence of the Nam Khan River with the Mekong, is famous for a large number of Buddhist temples and monasteries. The most significant of them were erected in XVI-XVII centuries. Walking around the city and visiting architectural monuments leave vivid memories.
Of particular interest to visitors of Luangphabang is the monastery Wat Sieng Thong, considered the most beautiful structure of the ancient capital. The Wat Visun Monastery, Tat Chomsi Pagoda and the former Royal Palace, whose halls are now occupied by museum expositions, also deserve attention of tourists.
Due to the presence of unique architectural monuments Luangphabang is included in the UNESCO World Heritage List. Nowadays the ancient city has about 50 thousand inhabitants. Here, as well as in Vientiane, there are modern hotels 3*-5*, as well as other objects of tourism infrastructure, guaranteeing a comfortable holiday.

Tat Kuang Si waterfalls, Laos. Author - Barry Crosthwaite.
Vientiane is the country's only metropolis

The current capital of the country is home to about 785,000 people. Four kilometres from the city there is an airport that receives flights from Bangkok and Hanoi. In Vientiane, connoisseurs of informative holidays are attracted by the temple of Wat Si Saket, which houses more than 6,800 images of Buddha, and other Buddhist temples.
Tourists are interested in the unique Buddha Park, located 20 minutes drive from the capital. For travellers are organised trips to the Valley of Jugs, which is famous for ancient stone vessels, their purpose scientists can not establish. The largest of these jugs weigh several tonnes.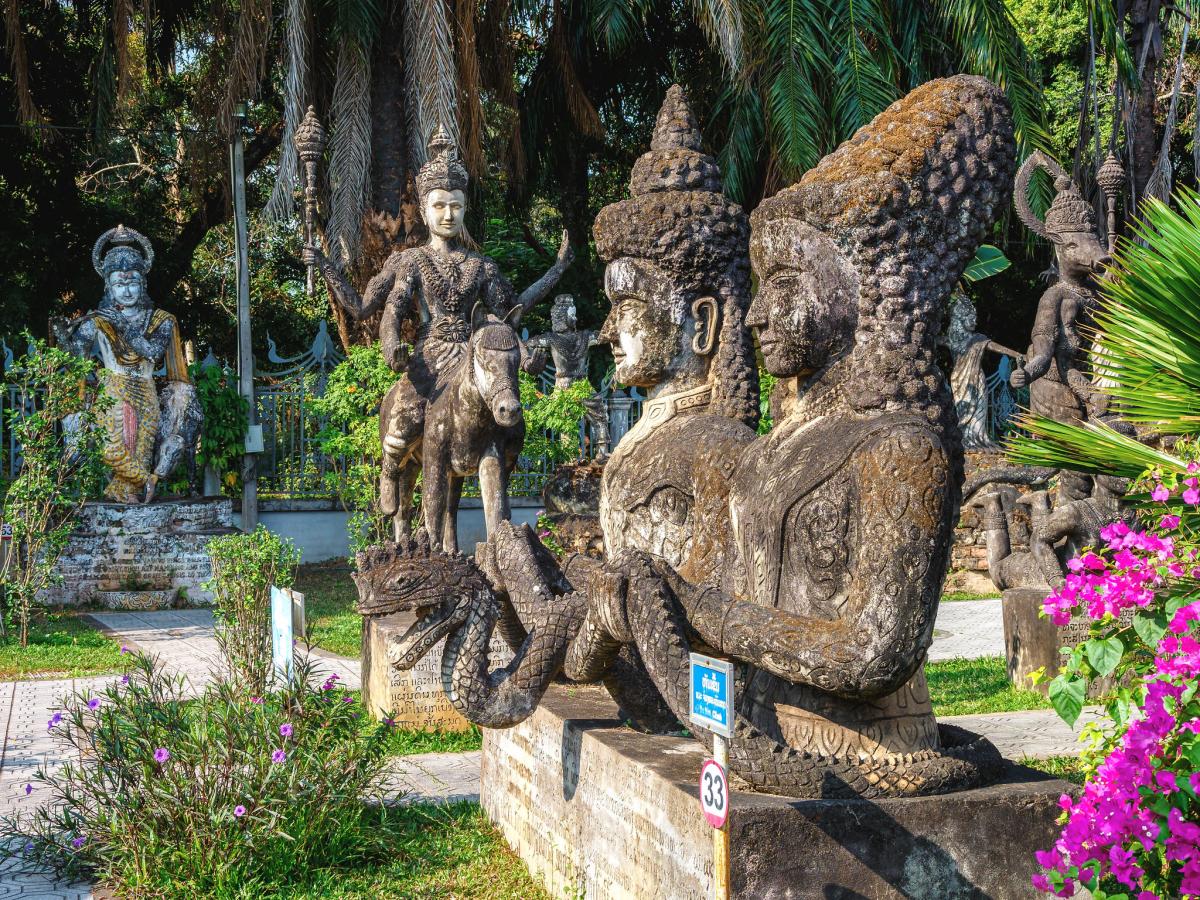 Vientiane, Laos. Author - Tom Conelly.
What else is interesting in Laos

Lao national cuisine will please connoisseurs of exotic dishes. The basis of many dishes is rice, which is served with vegetables, meat, river fish, chicken. Laotians love sauces and various spices. Holidays in this country can not be imagined without visiting colourful markets and small shops. Tourists willingly buy local fabrics, handicrafts and jewellery in Laos.
XW5SI. Where is Laos located. Map.
XW5SI Vientiane Laos. Sunrise 09-30-2023 at 22:59 GMT sunset at 11:00 GMT