YT7DQ will be active from Albania in CQ WW DX CW Contest, 29 - 30 November 2014, as ZA/YT7DQ.
He will operate in SOSB 40m HP category.
QSL via home call.
Albania-untouched jewel of Mediterranean
General info
Albania is Mediterranean country in south east Europe. It borders with Montenegro on north, Kosov on north east, Macedonia on south, Greece on south. It exits on Adriatic sea on west and Ioanian Sea on southwest. Albanian currency is Lek, and for $1 you will get 123 Albanian Lek.
Albanian capital is Tirana and other bigger cities are: Elbasan, Gjirokaster, Valona, Durres and Korca.
Albania is one of the poorest European countries. Almost half of its population works in agriculture, and 1/5 works abroad. Country practically doesn't have export, but it imports lots of food from Greece and Italy.
Around 3.5 million people lives in Albania, 95% of them being Albanians. Dominant religion is Islam, but there are also Christians. Tourism is in big expansion over the last decade, because country invests lot in tourism to attract tourists-and number of tourists indeed grows every year.
Albania is country with mountain and hillside terrain, seaside covering 450 kilometers. Beaches are usually sandy, longest one being almost 12 kilometers long. Albania has mild but also humid climate.
Albanian coast is on two European seas, Ionian and Adriatic Sea. Ionian sea is famous for clean and clear waters, all the way from Valona to border with Greece. Albania touches Adriatic Sea from Valona to border with Montenegro, and this part of Adriatic coast is famous for long sandy beaches.
Up until 2000, Ionina beaches were quite popular, but only among locals. Country went through political, economic and social disturbances in decade from 1990s to 2000s. Since than, Albania is continuously increasing employment rate and fights with corruption, and this has positively affected tourism as well.
Discovering Albania
Prejudices are main thing when we speak about Albania. Majority of Europeans usually believes that Albanian people are traditional, have big families, value primarily patriarchal ideas and limit female rights. This is definitely far from truth, when we speak of modern Albania. Albania today is moder tourist destination whom everyone should visit at least once in a lifetime.
Although lots of people don't consider Albania to be the most popular tourist destination, there are lot of reasons why you should come and discover it. Rich Albanian history includes fascinating and rich culture, architecture and local history. Et'hem Bey Mosque in Albanian capital Tirana, is a perfect example of this.
Besides rich culture and tradition, Albania has breath-taking landscapes on Ioanian sea, that is often compared to Croatian Adriatic coast. Agencies for eco-tourism and adventurous travels are opened all over Albania, to enable visitors to experience different type of tourist travel.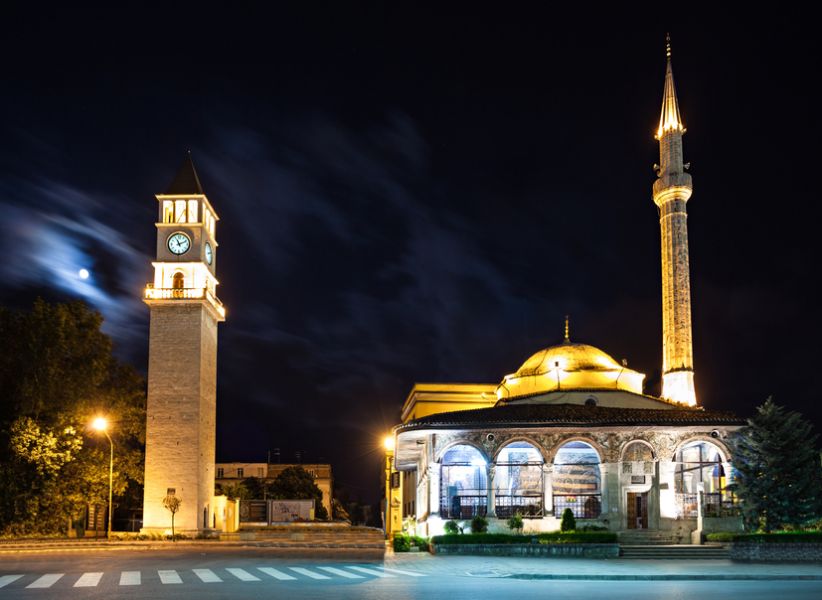 How to discover Albania
If you are not flying to Albania (central airport is in Tirana), the best way to reach the coast is from Montenegro, over the highway Ulcinj (Montenegro)-Skadar. Due to former isolation, road hasn't been in the best condition-but this is improving a lot lately. Right after the border you will come to part of road that is very narrow. From border to Durres you will have to drive about 3 hours. However, it will be a well-worth ride: from the moment you go for a walk in Durres, you will enjoy in new, friendly face of modern tourist destination. Dozen of nice restaurants and cafes, vivid and urban city center greets everyone. Numerous modern hotels on seaside, near long sandy beaches quickly improve your reserved opinion on Albania as tourist destination.
Drac is located on Adriatic coast, 33 kilometers from Tirana, and it is one of the oldest cities in Albania. These days about 215.000 people inhabits Durres, which is considered the biggest tourist center and port in Albania. Beneath old city neighborhood was built new city neighborhood with modern buildings, boulevards and promenades. Few ferries comute with Italy on a daily basis. Unavoidable tourist destinations are archeologic sites Butrint and Apollonia, Kruja, birth place of Skanderbeg, as well as the Skadar fortress.
Astrit Kurti, owner of "As" hotel located right on the beach in Durres, confirms that tourists in Albania are completely and pleasurable: "We have many guests from all over the world, and we are confident that even more will arrive in coming period. Our coast and country in general are perfectly safe for guests to enjoy."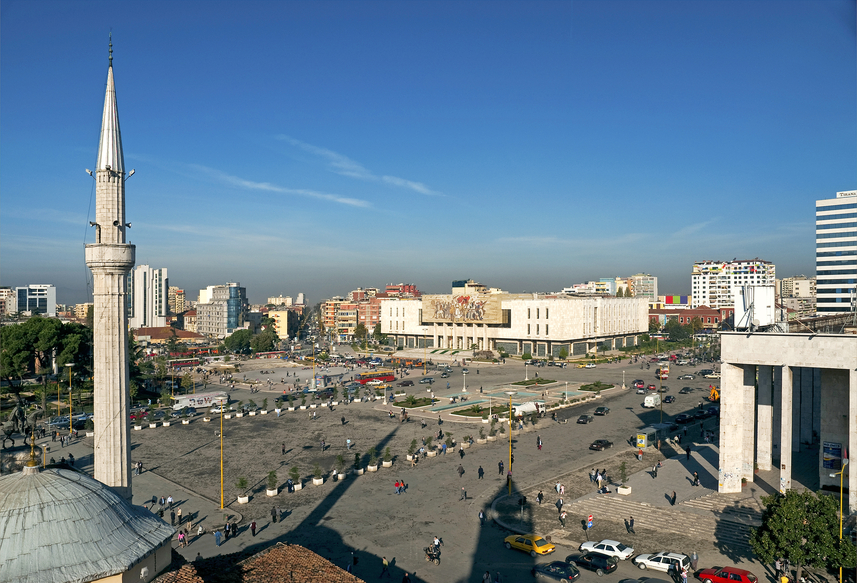 Colorful Tirana, Albania capital
Due to long Albanian history related to many different cultures: Hellenic, Illyric, Roman, Turkish; Albanian civilization developed under all these influences, so tourists can enjoy in cultural diversity on every step. You can enjoy in different architecture styles in religious buildings as well as in aristocratic and royal residences. As perfect example we can again point to mosque in Tirana. It is true tourist jewel because of its stunning beauty and historic value.
Center of Tirana is Skanderbeg square that surrounded by wide avenues brings together majority of important institutions in city. Here are ministries, city opera, theater and in nearby park is country Parliament. Capitol is dominated by the monument of Duke Skanderbeg on his horse. This historic hero successfully defended country from Turks; he is symbol of Albania, of freedom and independence. However, architecture was more affected by anti-hero Enver Hoxha, who kept Albania in isolation for number of years, making it famous as a country you can't get in or leave it. After the World War II, Albania became communist country, and Enver Hoxha started politic of isolation that completely destroyed Albanian economy. Only after his death in 1991 did Albania start to recover from communism, and is now country that develops at the fastest rate in entire Europe.
Hoxha was communist who forbid organized religion, and only after his death were numerous new churches and mosques built. Old religious objects were destroyed during his ruling, or renamed for other purpose. However, mosque on Skanderbeg square remained untouched-luckily.
While in Tirana, you can visit several interesting museums, a large park in city center, and while in center you will surely enjoy sightseeing many colorful buildings.
Of other historic values, it is interesting to mention that National historic museum in Tirana has extensive exhibits related to Albanian turbulent history; they have articles dating as far as 95 000 years B.C.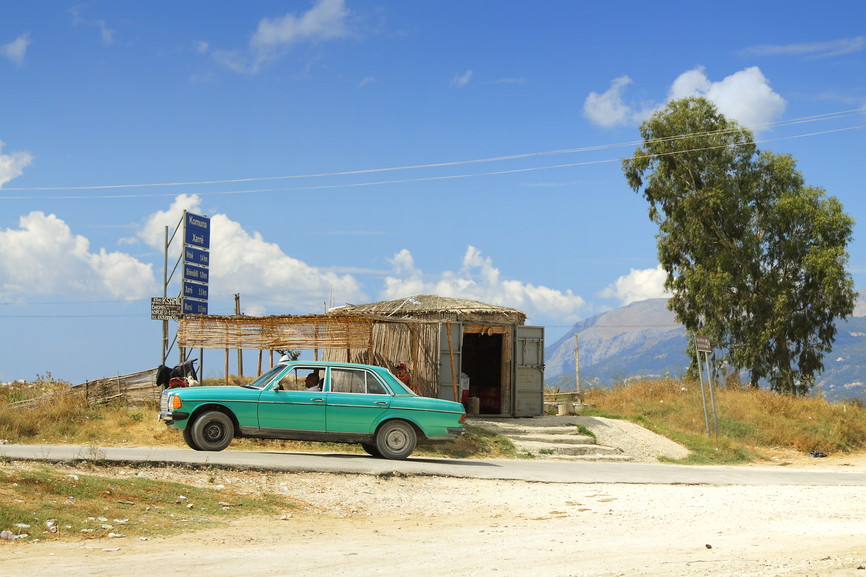 Other tourist sites
While on seaside in Durres, make sure to visit Archeologic museum. It is located right on the seafront and you can enjoy sight on numerous Greek, Hellenic and Roman artifacts.
Travel in Albania wouldn't be complete if you don't visit Rozafa Castle from Illyrian period, and lies just outside of Skadar city.
You should also visit Albanian "museum-city" Berat to see its beautiful Ottoman houses located in mountain scenery. This city is part of UNESCO World heritage.
Video Albania