Joao, PU2KKE inform dxnews.com that members of Cabreuva DX Group PY2DS, PU2POP, PU2XIZ will be active from Queimada Grande (Snake) Island (IOTA SA-071) 12 - 13 January 2016 as ZY2QG.
Message from Joao:
24 hours only of activation only!!!!!!!
January, 12 (forecast) start 10:00 am UTC and 13 (forecast) end 18:00 PM UTC) 2016
(hopefully not delayed again due to weather conditions)
40, 20, 15 and 10 meters - Phone and CW
Any change will be reported.
We depend on good weather for landing on the Island
Qsl card via PY2DS (direct 2$ + SAE) or bureau - Radioamadores Brasileiros enviar Qsl + envelope autoendereçado e selado ou via LABRE
ZY2QG
TEAM: PY2DS (qsl manager) / PU2POP (team leader) / PU2XIZ.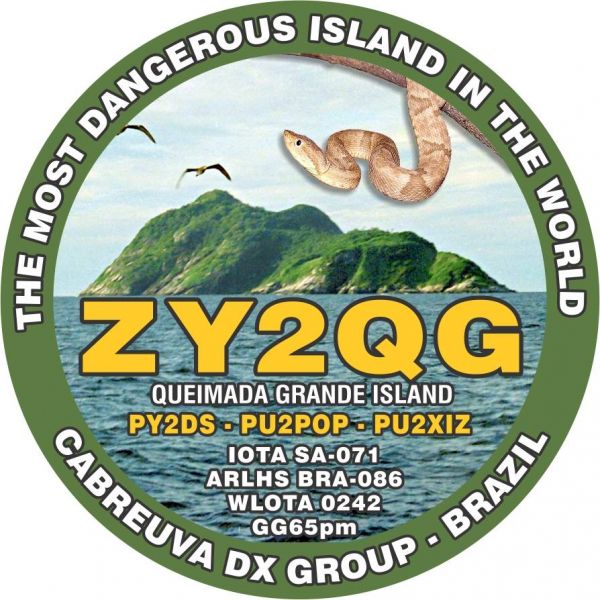 Queimada Grande - Snake Island. DX Pedition ZY2QG Logo.
Where is Queimada Grande Snake Island located. Map.
ZY2QG Queimada Grande Island Snake Island. Sunrise 09-30-2023 at 08:46 GMT sunset at 21:06 GMT