DL9HCU is currently active from Fiji Islands as 3D2HC.
He is working qrp on 20, 30 and 15 m.
QSL via home call.
Fiji-little piece of heaven on the Earth
General info
Republic of Fiji is located about 2/3 on way from Hawaii to New Zealand, and includes over 300 islands, of which around 100 is inhabited (with about 840.000 inhabitants). Main island is called Viti Levu, it is approximately 200 kilometers long, and it is location of Fiji capital Suva.
Currency is Fiji dollar (1F$ = 0.5 eur).

North island is called Vanua Levu, then there are Kadavu and Taveuni islands, also larger ones, and the majority of other islands are small divided into five groups of islands: Mamanuca, Lomaiviti, Lau, Moala, Yasawa and Rotuma.
People of Fiji are incredible mix of Melanesian, Polynesian, Micronesian, Indian, Chinese and European influence.
Locals speak English very well, so you will have no problem to communicate with them.
Natural beauties of Fiji islands
You will find some of the most beautiful beaches on Fiji, bounded by turquoise sea, ability to enjoy in numerous sports and a view onto fascinatingly beautiful nature. Fiji was location for filming of blockbuster movies such as Blue Lagoon and Castaway.
Fiji has relatively well infrastructure, food food, and numerous private hotels in quite lagoons, for everyone who wants to escape daily routine and fast pace.

Up until recent modern times, Fijis was known as island of cannibals. Natives have eaten European missionary Thomas Baker in 1867 in his entirety, baked in little oil and seasoned with local spices. His shoe was too rigid to chew, so it was only thing left after him, and is exposed in Fiji Museum. Although cannibalism was island tradition for long time, locals don't eat traveler these days. They greet tourists happy they will have profit of them, because tourism is these days primary source of local income. These days, Fiji islands are crossroad of South Pacific. Islands preserve richness of traditional customs such as drinking kave or yaqona, fire walking, pottery making and tapa drawing on tree bark. Besides fascinating history, country also involves drastically differing land formations, jagged coastline and sub water rocks, all present together in a relatively small surface. Sun-kissed beaches, blue lagoons, lush rain forests and coral reefs are like dream come true! Large coral reefs surround islands and at the same time create barrier to waves, so along the coast ocean is completely still and provides fascinating opportunities for diving, snorkeling, swimming and other water activities. Water temperature is similar to air temperature and enables pleasant stay in water throughout the day, especially in the sunset.
Fiji has fantastic hotel resorts, excellent food, accommodation, night life and opportunity for exciting sports and under water activities. You can travel from one side to the other side of the island, or from one island to another relatively easy and quickly, with open or air-conditioned buses, hydro-planes, catamarans or tourist sailboats.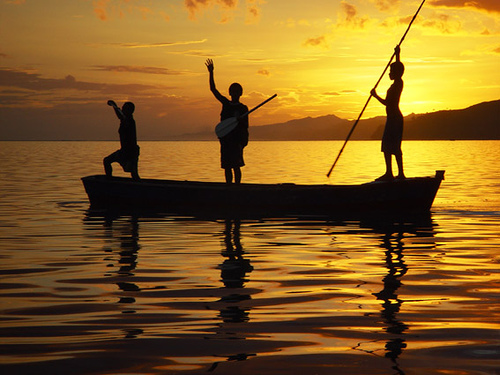 Prices and costs
If you sleep in cheaper bungalows and motels, plan archipelago sightseeing well, don't eat in expensive restaurants, then you can spend as little as $10 a day.
Inflation is relatively high, approximately 12%, and prices are generally quite high, especially in popular tourist locations.

Accommodation– perfect for backpackers
One of main advantages on Fiji is the fact that tight budget isn't a problem. There are many affordable motels, bungalows and camps all over the islands. In hotel restaurants choice of fish and seafood is unlimited, just as the choice of cakes. Every food is followed by assortment of Australian wines and unavoidable Fiji beer. Besides dishes prepared in original south Pacific way you can also enjoy in Mexican, Greek and Italian cuisine. Most popular local dishes you must try are cocoda (marinated local fish in cream made of coconut and lemon juice) and duruka (vegetable similar to asparagus). Sea food is the main ingredient of local cuisine, and is often prepared in coconut milk (lolo). One of popular dishes is lovo- fish, pork or chicken wrapped in banana leaves and baked for several hours. Make sure to try incredible variety of tropical fruits.

However, cheap accommodation sometimes means terrible room condition or overcrowded hostel. Even in better rooms and apartments, quality can differ drastically from one month to another, and depending on the owner character.

Nadi – Nice little city where is international airport located. We recommend Nadi Bay Hotel, who has recently been renovated by its new owner. Single bed in bedrooms is very affordable and private rooms are around $25-$35. Nadi Bay Hotel is located 10 minutes from airport.

Suva – Suva is capital of Fiji, located on island Viti Levu, and it is a home to 2/3 of population of archipelagos. We recommend South Seas Private Hotel, within walking distance from city center. For backpackers this hotel is one of the best options in Suva.
Levuka – Over 100 years old pub/inn The Royal Hotel is at the same time charming and affordable accommodation, with breath of local history. It is also one of the best examples of colonial architecture-you will feel like you have entered a time machine.

Tavenui is a little island that is true paradise for tourists.

Tivua
Island Tivua has two cottages available for rent, so you will have an entire island for yourself In price of arrangement is also included full board and personal waiter. Although all the amenities of modern world are available (electricity, hot water, phone), accommodations is quite modest, but there is no need to be any different-you will probably spend most of the day enjoying outside activities or relaxing in the shade of palm trees!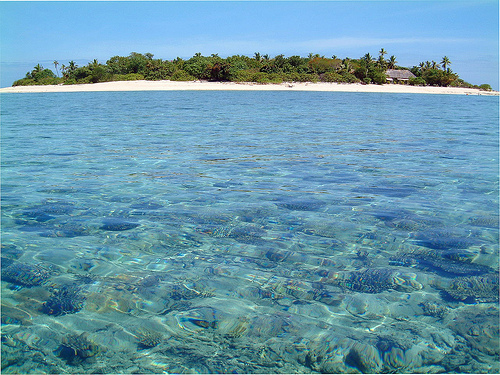 Heaven on Earth
Many tourists who come on Fiji spend their holidays just resting on the beach, laying on pristine white sand, which is no wonder because beaches are simply irresistibly beautiful. Vanua Levu island is relatively undeveloped, with limited infrastructure, and it is ideal for relaxing on the sun. There you will find excellent opportunities to enjoy in diving in shallow coastal waters, to ride a kayak, to go hiking or bird watching.
Local culture
Although you will see many modern and not so attractive buildings, there are still quite a few of magnificent colonial buildings that are true examples of architecture of previous centuries. Majority of these can be observed in Suva.
You will find out most about archipelagos history in Fiji Museum, located within Botanical Garden in Suva. Museum is opened every day except Sunday from 9.30 am to 4 pm, and ticket is around $2.

How to go sightseeing
There is well organized bus line network in larger islands. Express buses commute between larger cities, and local buses stop in every village, and although they sometimes don't have glass windows, they are quire comfortable and civilized.
Airplane is also a good option to go sightseeing around archipelagos. For as little as $50 you can arrive to majority of islands. Local flights are organized by Air Pacific, Air Fiji and Sun Air.