Dave, WJ2O will be active from Saint Kitts and Nevis Islands 26 November- 2 December 2014 as V4/WJ2O.
He will be active also in CQ WW DX CW Contest in SOAB LP category.
QSL via home call.
Message from Dave, WJ2O:
For the American Thanksgiving Holiday this year my wife Chris and I are going to first travel to Puerto Rico (KP4) and stay a few days. I have no plans to operate from there.
Then we will continue on to Basseterre which is on the Island of St. Kitts (V4). We have rented a villa on the side of a mountain south of the Capital City of Basseterre and plan to set up the radio.
The V4 operating dates are 26 November to 2 December 2014 with the contest running over the weekend.
Saint Kitts and Nevis Islands. Country Information
Saint Kitts and Nevis, officially The Federation of Saint Christopher and Nevis also known as the Federation of Saint Kitts and Nevis is smallest sovereign country in the Americas.
Motto- Country Above Self.
Anthem- O Land of Beauty!
Capital city- Basseterre.
Official language- English.
Area- 261 sq km.
Currency- East Caribbean dollar XCD.
Time zone- UTC -4.
International phone code- +1-869.
Internet domain- .kn
Popular sport- cricket.
V4/WJ2O Saint Kitts and Nevis. Information for radio amateurs
Amateur Radio prefix- V4.
DXCC country- Saint Kitts and Nevis.
WAC continent- North America.
WAZ zone- CQ 8.
ITU zone- 11.
RSGB IOTA- IOTA NA-104 Saint Kitts and Nevis.
QTH locator- FK88.
Saint Kitts and Nevis

A tropical island pair – Saint Kitts & Nevis are Caribbean islands, also called Saint Christopher & Nevis islands. This pair of islands is untouched and undiscovered. The islands are known for their languidness and superior level of beauty. Tourists simply visit the islands to get mesmerized. A tour to the islands will make your journey a moving experience, as you will come close-to-close and heart to heart with nature!
Saint Kitts & Nevis islands are made up of stunningly tall peaks. Mount Liamuiga found in Saint Kitts Island is a non-active and dormant volcano, which is also covered vastly by the rainforest. You can go for hiking to these peaks but do not forget to tag along a guide or hiking expert. The rainforest of these islands is lush and beautifully adorned with bright colored flowers. The islands of Saint Kitts & Nevis offer an aura of sheer natural elegance, color and beauty that enthrall everyone who pays a visit to the islands!
St Kitts and Nevis has 14 parishes. Nevis island has Saint James Windward Parish, Saint George Gingerland Parish, Saint John Figtree Parish, Saint Thomas Lowland Parish and Saint Paul Charlestown Paris.
St Kitts Island is made up of Saint George Basseterre Parish, Christ Church Nichola Town Parish, Saint John Capesterre Parish, Saint Anne Sandy Point Parish, Saint Paul Capesterre Parish and Saint Mary Cayon Parish.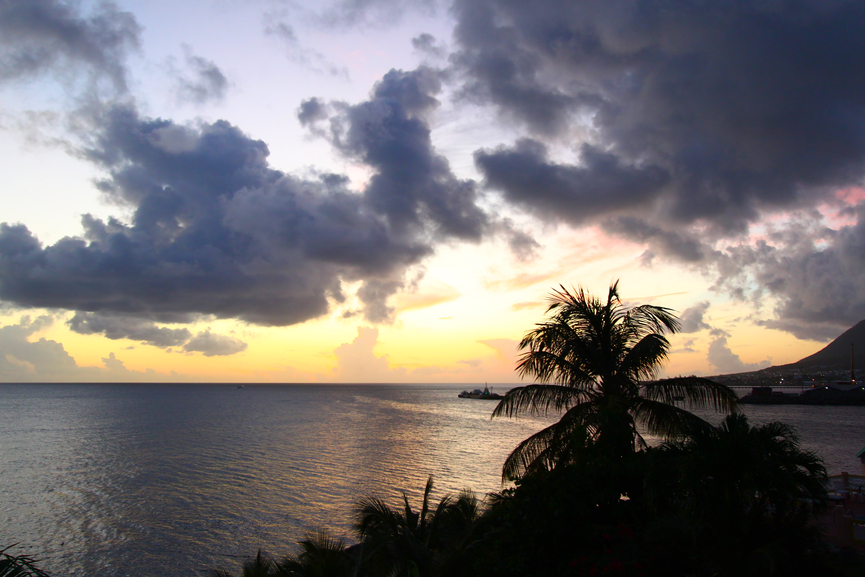 Sunset on Saint Kitts.
Geography and location of Saint Kitts & Nevis Islands
The islands are small in size. Water of 3 kilometers separates them. This twin island country has 270 square kilometers of landmass, with St Kitts being larger in size than St Nevis Island. Majority of the islands is covered with deep and lush tropical forests, with high elevations and are mostly used for tourism, agriculture and settlement purposes.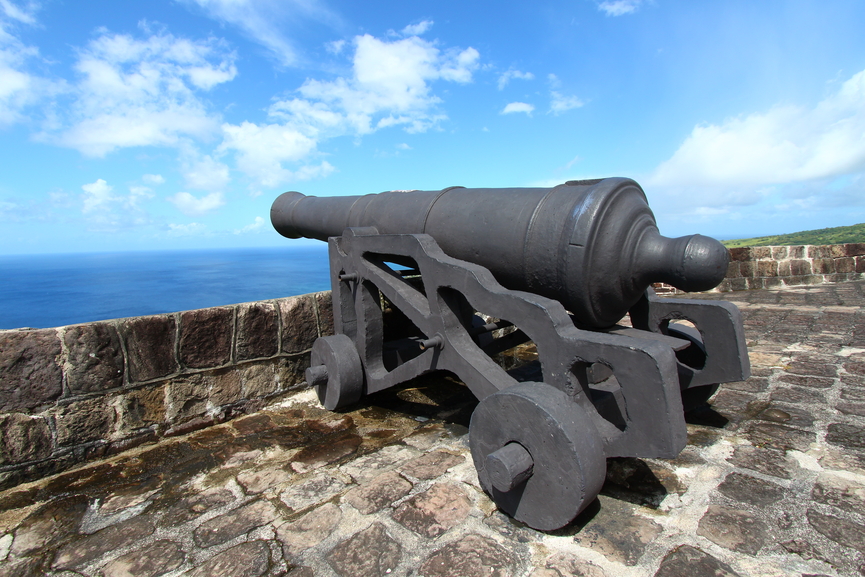 Brimstone Hill Fortress - Saint Kitts
Activities and Sights of Attractions
Activities to enjoy in St Kitts & Nevis Islands are many, but one of the most prominent activity is horse riding. Undertaking horse riding in Nevis Island is a unique experience all together. This is because you get to enjoy horseback riding by passing the turquoise colored waters and white sandy beaches, lined with tropical palm trees.
Apart from horseback riding, don't forget to visit the botanical gardens of Nevis, which is covered by 3.2 hectares and is only few minutes away from Charlestown. The Nevis Botanical Gardens offer a mystical display of collection of rate and beautiful tropical orchid, greenery and roses, along with the rainforest conservatory.
Then there is the 18th century Brimstone Hill Fortress National Park, also called the Gibraltar of the West Indies. From the 60s only restoration of the fortress began in order to make it look like it did originally. The design of the fortress was by a British but an African slave built it. There is the citadel having 24 cannons and offering an awesome view that of Sandy Point Town and Saint Eustatius.
Saint Kitts and Nevis is a tropical pair of island that offers a lot when it comes to sightseeing and exploring nature. There is no dearth to the activities one can enjoy when holidaying in any one of the islands!
Video Saint Kitts and Nevis.