CE2WTF and CE2NTT will be active from Easter Island (IOTA SA-001) 2 - 3 August 2014 as XR0YNTT, 3G0YNTT, CB0YNTT, XR0YWTF, 3G0YWTF, CB0YWTF.
They will be active on 40, 20,15,10 ,6m.
Easter Rapa Nui Island. Information
Easter Island (Rapa Nui: Rapa Nui, Spanish: Isla de Pascua) is a island in southeastern Pacific Ocean.
Official languages- Spanish, Rapa Nui.
Currency- Peso CLP.
Time- UTC -6 Summer time UTC-5.
Eastern Island is a volcanic island.
Climate- Tropical.
Eastern Island is known for gigantic stone statues.
These statues called moai.
XR0YNTT 3G0YNTT CB0YNTT XR0YWTF 3G0YWTF CB0YWTF Easter Island. Information for Radio Amateurs.
DXCC country- Easter Island.
CQ magazine WAZ zone- CQ 12.
ITU Zone- 63.
QTH Locator- DG52, DG73.
RSGB IOTA reference- IOTA SA-001 Easter Island.
Amateur Radio Organization- Radio Club de Chile (RCCH), member of International Amateur Radio Union IARU.
President- Galdino Besomi Sani, CE3PG.
Secretary- Marisa Tobella CE2MT.
Easter Island: A Historic and Secluded Beauty
A Few Words about Easter Island
Easter Island is an island belonging to Chile that stretches across 63.17 sq miles. The Capital is Hanga Roa. Its main economy is tourism as hundreds of thousands of people will flock to see the moai statues. The carved heads stand 13 feet tall and weight 14 tons. Part of the attraction for tourists is the mystery of how and why the Rapa Nui people constructed and moved the heads. But little to no history is left for us to decipher.
While the official language of Easter Island is Spanish, many of the native Rapanui still speak Rapa Nui. It is a Polynesian language similar to Tahitian. Most people employed in tourism on the island will speak English. The Religion of the island is called Ivi Atua. Their belief in the immortality of the soul adds to beliefs that ancestors can help their descendants if they need it. Make-Make is their Omnipotent god. The chief, priest, and sorceress, of each tribe is gifted with Mana, a mental, supernatural power to be used for the good of their people and the destruction of their enemies.
The first inhabitants were the Polynesian Rapa Nuis. They lived in isolation, carving out their own architectural and artistic culture. They reached their peak somewhere between the tenth and sixteenth centuries when approximately 900 moai statues were erected across the island. It is unknown when the polynesiams first came to Easter Island, but it's though to have been somewhere between 800 to 1200 AD. After settlers arrived the eco system on the island was destroyed. All the trees were cut down, causing serious erosion of the soil. The European settlers would arrive in 1722 to find a barren island with few living inhabitants. In 1888, Chile would annex the island.
Getting Around Easter Island:
Driving: Cars are available for rent on the island both from hotels and agencies and well as local budget accommodations called residenciales (these will be cheaper, but will expect cash). Insurance usually will not be included, and it's smart to be sure the car has everything it needs to fix a float tire, as this will often happen on the terrain.
Taxi: Taxis are available for a relatively cheap price (3 dollars to get around town). Longer trips are negotiated based on time, but make sure you call in and prearrange a time.
Bikes: Bikes can be rented from Hanga Roa for around 16-25 dollars a day.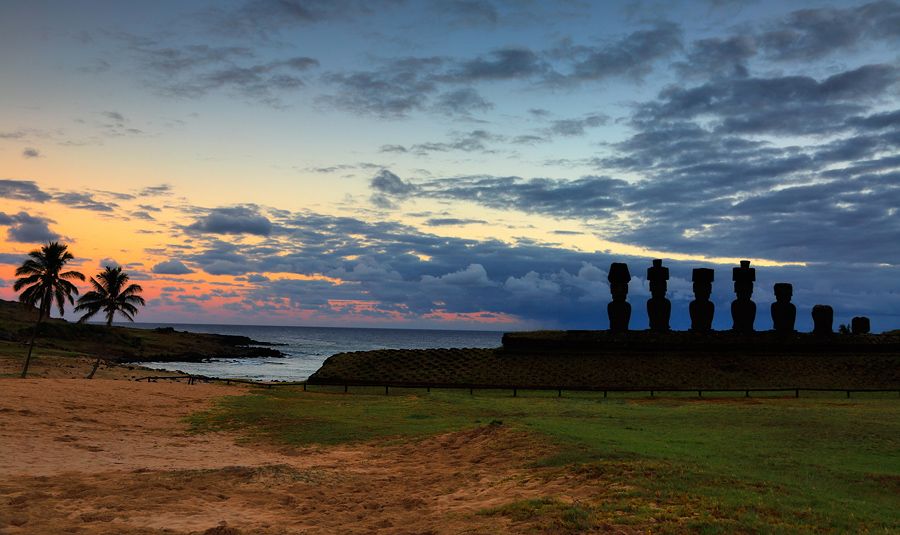 Culture:
The food in Easter Island is based in seafood. The main seafood is tuna, mahi mahi, swordfish, kana kana, lobster, shrimp, and rape rape (small lobster native to the island). To compliment these dishes there are many agricultural products. Sweet potatoes, taro, yams, plantains, and sugarcane will go with many meals. A popular meal is Umu Rapa Nui (Easter Island curanto). It is cooked in a hole the ground as it has been for hundreds of years. Hot stones are covered with plantain leaves, then they create a layer of meats followed by a layer of vegetables all separated by plaintain leaves and covered at the top with dirt. The hole acts like a slow cooker.
The music of Easter Island is rooted in native sounds, traditions, and legends. They have many traditional instruments. The maea are hard round stones taken from the sea, and beaten with rhythm used to accompany singing groups. A keho is a drum made of stone. The stone is placed atop an empty pumpkin dug into the ground. The drum is beat with the player's feet. These instruments, and many more, are used to make ritual chants, traditional Polynesian songs, and songs dedicated to Gods, warriors, and other elements.
Schools on Easter Island went through changes in the early 90's. Originally, when Chile had annexed the island, all schools had been entirely in Spanish and the native language, Rapa Nui had been forbidden. In 1990's Chile decided it was best for tourism if they preserved the culture of the Island. Now, every school holds at least one class for learning Rapa Nui. It is a language that has only recently been written down, and a first dictionary was in the works in early 2000's.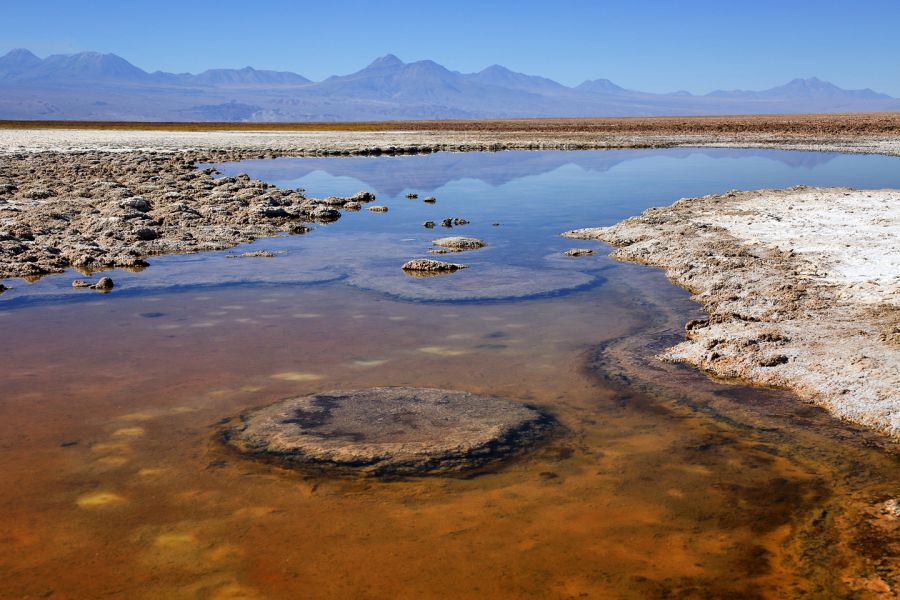 Nature:
Easter Island has a mild climate that varies from 27 C in February and 15 C between June and September. The island gets an average rainfall of 1,100 mm a year. The average temperature of the sea is 20 C. The drier months of August to March make for the best time to visit.
Due to severe Isolation, there are no native mammals on Easter Island. There are horses, Maori rats, and two types of reptiles: Gekkonidae and moko uri uri (a type of lizard). Sheep and goats comprise the domestic animals. Birds include the native Frigate bird and Red-tailed tropicbird.
Tears after their many forests were destroyed, what's left is 34 of the over 50 native species of tree on the island. Some of these 34 were actually brought by immigrants. There have been successful attempts to save endangered plants through the use of botanical gardens.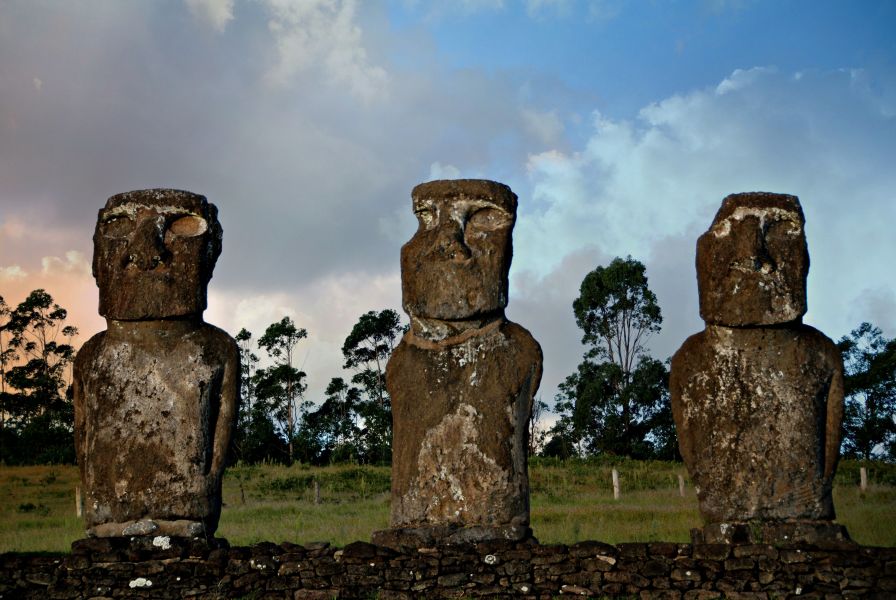 Sports:
Easter Island has its own football team. While not a member of FIFA, it still competes against South American teams.
Places to Stay:
Hare Noi is a small hotel on Easter Island. It offers four rooms rooms overlooking a garden and a view of the natives of Rapa Nui. It is a great way to take in the local culture. Accommodations include 300 thread count sheets, goose down pillows and duvets, and wifi from the living spaces. There is also an onsite spa.
The Explore Rapa Nui offers 30 rooms that are gorgeous, spacious, and unequipped with TV and Wifi to help disconnect their visitors from their everyday routine. These are available only in the common area. They overlook the Pacific Ocean and offer over 20 guide's hikes, bike rides, as well as fishing and snorkeling.
Conclusion:
Easter Island is a mysterious and beautiful land of ancient history. It's perfect for anyone looking for a slow down to their routine in a pristine landscape rich with native culture, music, and sites. If you aren't drawn in by the impressive moai statues, then the food, music, or local charm will win you over. It's perfect for individuals, couples, and families who love history in majestic landscapes.
Video Easter Island.