Larry, N6AR will be active from Guantamo Bay in November 2014 as KG4LB.
He will be active in CQ WW DX CW Contest 29-30 November 2014 in SOAB LP Category.
QSL via LOTW, eQSL.
Guantanamo Bay the past and present
Guantanamo Bay is one of the famous also much known coves of this world that is present in the Province of Guantanamo near southeast of Cuba. Steep hills are surrounding the area and this has been responsible for the creation of enclave. This bay has a very strong history and has great political significance on international level. US took the control of this territory after the Treaty that was signed between Cuba and America and it was agreed upon by members of agreement in year 1903. In accordance with the settled conditions United States enjoys complete control over Guantanamo Bay, but recognizes that Cuba possess decisive authority over the area. However if we consider the reviews that are being presented by the present Government of Cuba, then they insist that US managing control of this region has no significant legal positioning and they insist over the point that Cuba-American Treaty was not a mutual agreement in fact it was outcome of threatening and utilization of force most of all this is something, which doesn't shows any kind of compatibility with international rules and regulations.
The Basic factor, which has provided this bay significant fame in world, is presence of mostly known Guantanamo Bay detention camp in this region, which is under governing authority of US.
Historical perspective
In 1898 US opened naval base in this region and it was that time period, when Spanish American war was continuing. After this when 1903 came, Cuba and US agreed upon an agreement in which US was given permission of taking this land on lease for purposes such as naval stationing also coaling.
The Guantanamo bay Naval Base
This is covering 120 kilometer square area consisting of land also water of Guantanamo Bay. Base can be found upon shore at south east corner of the land that is included in Cuba. Interestingly this one is noted as oldest overseas Naval Base of United States also it holds the status of being lone installation of military inside a state and with this US shares no diplomatic association. We have already indicated that government of Cuba is insisting from 1959 that it's against the presence of U.S in bay. This matter was also highlighted in 2013 at UN's Human Right Council by foreign minister of Cuba who was demanding that United States should return the land to government of Cuba.
Presently the base is also known for containing a prison of military that is popularly known as Guantanamo Bay detention camp, and US maintains that this prison is used for dangerous criminals who have been taken into custody from different parts of the world. From time to time reports related with inhuman behavior with prisoners and mental torture come and this matter has received a severe response from international circles and the behavior is considered as a violation of human rights.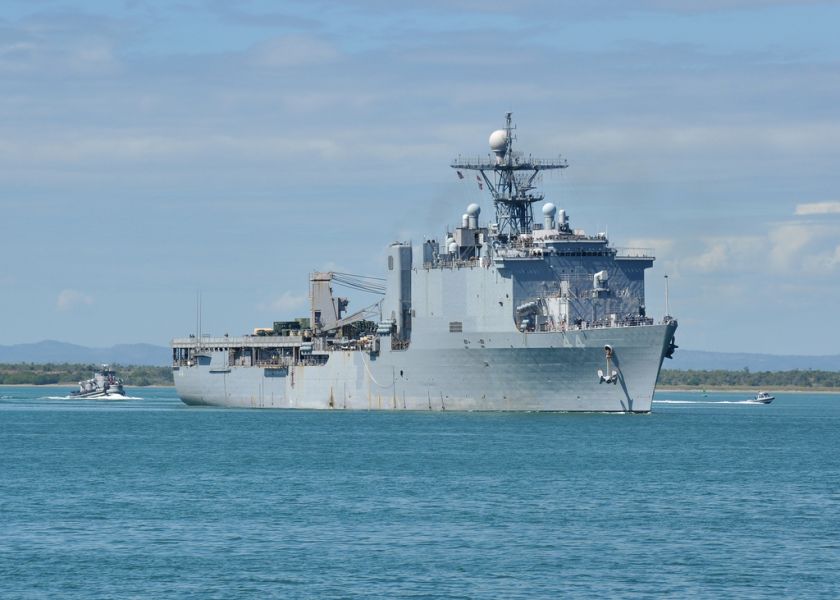 Geographical aspects of Naval Base
The division of naval base into 5 important geographical divisions has been carried out. The base has been divided by the bay physically into two parts. The Guantanamo Bay is known for containing numerous atolls which are very famous around the globe.
Leeward Point associated with this Naval Station is the area of functional airfield. Prominent geographical aspects of this point have the inclusion of Guantanamo River and Mohomilla Bay also three beaches are present on Leeward end. Two of these beaches are being used by the residents of base, but third one has been closed. Majority of the activities associated with this Naval Station take place upon Windward Point and 9 beaches are there for the use of base residents. John Paul Jones hill is regarded as the highest point with a height of 495 feet.
Guantanamo bay detention camp
Situated inside Naval Base the detention camp is basically a military prison under the government of United States. The prison was established in the year 2002 with the aim of detaining criminals that are extraordinary threatening so that they can be interrogated in a supervised setting also for the prosecution of the war crimes of war. Criminals who have been captured during the war on terror from the region of Afghanistan, Iraq and South Asian region were kept inside the prison. This facility is controlled by JTF-GTMO of US government. Areas of detainment are being mentioned ahead.
The main highlight which should be mentioned in this regard is that from time to time reports associated with torture and abuses are being presented from the detainees of this military prison. But all these claims were denied by the government of Bush.
Camp Delta
This one is noted inside detention centers that contain 612-units and it completed in 2002. It is well known among masses and has a very bad all round reputation.
Camp X- Ray this was of temporary nature also it's never opened after 2002 and criminals that were kept here were sent to Camp Delta.
Camp 7 it came to highlight in 2008 and it was indicated as a solitary facility that is present inside naval base. This region is recognized for enjoying a very high level of security. Because of this reason it is commonly used for keeping high profile dangerous prisoners. It is important to point that European Union's members also a good number of Organizations from around the globe protest also pose questions related with legal positioning of prison also they are not satisfied with physical conditions in which prisoners are kept. Violations of Human rights and all these are not good signs and they are reportedly very often and situation is very alarming.
The Bush administrations were certain that legal positioning of this military prison is defined and reports related with torture also abuses are meaningless. However, Obama administration made attempts of closing the military prison, but none of their efforts have yielded significant results.
In short, this bay possesses a stronger significance and value of its own, which cannot be altered. United States give very high value to it and they do not fancy discussing matters generally.