Alan AD6E, David N6HD, Arnold N6HC, Walt N6XG, Pista HA5AO, Gene K5GS, Ross K6GFJ, John K6MM, Kevin K6TD, Stu K6TU, Tom ND2T, Steve W1SRD, Les W2LK, Mike WA6O will be active from Chesterfield Islands 1 - 12 October 2015 as TX3X.
They will operate on 160 - 10m CW, SSB, RTTY.
QSL direct Chesterfield Expedition, P.O. BOX 1100, Kenilworth, Warwickshire, CV8 2YT, England, OQRS, LOTW.
Pilots:
W4HK Chief Pilot, Pilot North America.
Africa - V51B
Asia - 4L5A
Europe - HA5XA
Japan- JA1WSX
Oceania- VK3HJ
South America- PT7WA
TX3X Chesterfield Islands DX Pedition News 16 December 2016.
The TX3X QSL went to the printer earlier this week.

With the holidays just around the corner we'll post them from the UK in January. We're using a folded four sided color card that will be mailed and a traditional color card for overflow QSOs and the Buro.

73,
TX3X Team


TX3X Chesterfield Islands News 12 December 2015.
TX3X LoTW / QSL Card Status:
- Not in Log and busted call inquires have been researched and answered.
If you did not receive a reply to an inquiry please send only one
e-mail: to k5gs@pdxg.net with the details of the missing Q.
- Several "Not in Log" call signs were reported to be found in the logs of other DX-peditions or a Cuban Special Event station that were active at the same time as TX3X.
- The complete log will be uploaded to LoTW in May, 2016.
- Individuals that donated to the project at any time, your LoTW was uploaded.
- OQRS PayPal requests are processed daily, please allow 24 - 48 hours for LoTW upload.
- If you made a donation or processed an OQRS using PayPal and are missing an LoTW send an e-mail to: k5gs@pdxg.net All others, please wait for the complete log to be uploaded.
- Direct cards should be mailed to the address in the United Kingdom as shown at TX3X.com Those who send direct cards - your LoTW will be uploaded when we enter the contact information into the system. QSL requests received with insufficient funds will be sent via the Buro.
- We're finalizing the QSL card design and will send to the printer by December 18th. Cards will be mailed from the UK in January.
- We hope to see you at Visalia, Dayton or Friedrichshafen.
Merry Christmas, Happy Holidays, Happy New Year TX3X Team
TX3X Chesterfield Islands News 1 October 2015
Greetings from Chesterfield Islands,
After 3 full days at sea we arrived at the island at 10:15 (local) on 1 Oct, we had good weather throughout the sea voyage. The skipper brought the boat as close to the island as possible, about 500 meters.
We began loading the Zodiac and ferrying equipment to the island at about noon. All the equipment is now on the island, we raced against sunset to get as much done before we returned to the boat for the evening. We have several tents installed and two antennas, but not enough for the team to spend the night. The wind was intense which made it difficult to install the tents.
We will return to the island at 06:00 on Friday morning and expect to have one CW and one SSB station on the air soon after.

TX3X News 25 September 2015
Six members of the TX3X team are now in Noumea, New Caledonia, five arrived by air and one by sea.

The boat arrived on Thursday 23 Sept and is docked at the Port Moselle Marina with a crew of 6. She had a relatively comfortable ride from New Zealand, with some moderate seas north of New Zealand and then the seas settled down which made for a smooth ride, total time at sea 7 days.

The other 6 team members are scheduled to arrive Noumea on Saturday, 26 Sept.

This is a holiday weekend in New Caledonia, many businesses and government offices are closed. We are planning to depart for the reef on Monday 28 Sept after Customs and Immigration formalities are processed.

We will send out an update just before we leave Noumea.

Cheers,
Team TX3X Chesterfield Islands DX-pedition


News 1 September 2015
1,090 kg of TX3X equipment was processed through New Zealand Customs on Monday, 30 August and is now at our equipment consolidation point in Auckland. The gear was packed in Pelican cases and barrels, then wrapped in cardboard / plastic by the shipping agent.
Special thanks to Don Greenbaum N1DG for his help in arranging the shipping logistics for TX3X and Jim Sansoterra K8JRK for providing the Pelican cases.
Boat loading is scheduled for Sept 13 - 15, 2015 at Bayswater Marina, Auckland, NZ.
Tnx
Gene K5GS
News 18 September 2015
The Expedition Yacht Evohe sailed for Noumea, New Caledonia on Thursday afternoon (New Zealand time). Expected sailing duration 6 - 7 days.
Aboard the boat is a crew of 5 and one amateur, Pista HA5AO. She's following the New Zealand northeast coast and will soon be on a course to Noumea. The remainder of the radio team will assemble in Noumea between 25 - 26 September, with a planned departure date to Chesterfield on 28 September.
We appreciate the support we've received from around the world, and especially the from the New Zealand firms and individuals that assisted with the project and provided invaluable support.
73,
Team Chesterfield Islands 2015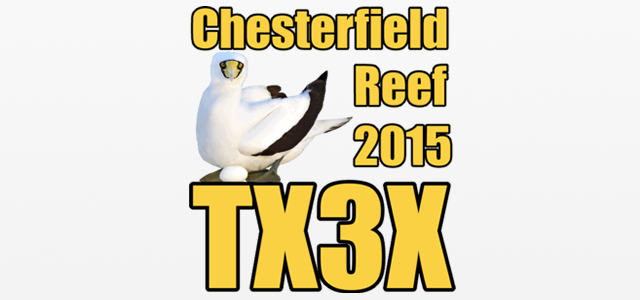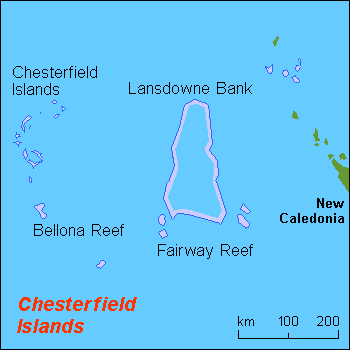 Video Chesterfield Islands