TX5N Team will be active from Raivavae Island, IOTA OC - 114, Austral Islands, 15 - 29 April 2022.
Team - N7QT, K5GS, N6XG, DJ9RR, W1SRD, N7BX, K0BEE.
Recent DX Spots TX5N
TX5N Log search They will operate on 160 - 10m, CW, SSB, Digital modes.
QSL via M0URX.
DXCC Country - Austral Islands, FO/A.
Planned operating freqs:

CW SSB RTTY FT8
1.826.5—– —– 1.836 F/H
3.523 3.790 —– 3.567 F/H
—– —– —– 5.357 Not F/H
7.010 7.090 7.045 7.056 F/H
10.105 —— 10.142 10.131 F/H
14.023 14.185 14.080 14.090 F/H
18.069 18.130 18.105 18.095 F/H
21.023 21.285 21.080 21.091 F/H
24.891 24.955 24.910 24.911 F/H
28.023 28.485 28.080 28.091 F/H
TX5N Raivavae Island News 30 June 2022
TX5N Direct QSLs Posted - M0URX
TX5N QSL cards were taken to the post office on June 30, 2022, please allow sufficient time for the card to reach you. Bureau cards will be shipped to the individual IARU bureaus in the next bureau mailing which is scheduled for Summer 2022.

TX5N Raivavae Island News 28 April 2022
Good morning,
Thank you for the wonderful pile-ups!
Our plan is to take down antennas this morning.
We'll keep 2 radios on the air during the take down, which will start at about 10AM local (20:00z)
Look for us on either 10/12 or 17m
We will put out a bulletin when we go QRT.
73,
Team TX5N
TX5N Raivavae Island News 26 April 2022
Current plan is to pack non essential equipment beginning on Weds, April 27th, however we will operate the full 24 hours. On Thursday we will take down the antennas, we'll keep a station going as long as possible during the take down. The equipment will be taken to Papeete, Tahiti aboard a cargo ship the first week in May, then by air to San Francisco.
We'll will issue an update when we go QRT.
Team TX5N
TX5N Raivavae Island News 25 April 2022
Conditions have been very challenging on the low bands. The amazing solar activity that gave us an incredibly high SFI that opened the HF bands to the world also made 160 much more difficult, with increased absorption on the low bands. Despite long nights and many hours with very low QSO counts, even with maximum legal power, we have decided to forego any further 160 operation and convert that antenna to 80m. While we know this will disappoint many of you we also anticipate more success on 80m.
Team TX5N
TX5N Raivavae Island News 24 April 2022
As the TX5N team are struggling with small bandwidth for contact between our support team off island, we request that you please do NOT send graphic files of any kind to the team at TX5N. This included photographs, screen shots, log files, etc.
All log questions to M0URX. "Not in log" Busted Call button on OQRS.
Please do not send emails for any reason. Thank you
73, Team TX5N
TX5N Raivavae Island News 22 April 2022

For the past 24 hours the island has been buffeted by high winds, constant at about 20 MPH, gusting to about 35 MPH, expected through Saturday.
One hexbeam guy rope that was secured to a small tree stump pulled the stump out of the ground and down came the hexbeam, one fiberglass spreader broke. Time to remove and replace the replace the broken spreader with a spare part was about one hour. We had to wait for a break in the wind to restore the antenna to its fully extended height. An interesting experience with the wind still blowing hard.
The worse news is the 160 meter antenna is exhibiting a high SWR, faulting the amplifier at about 300 watts. We'll inspect that antenna in the daylight.
As a reminder: on FT-8 we are using WSJT-X.
The operators are now on a 6 hour shift rotation. As expected, the pile-ups are energetic.
Our satellite service provider has been unable to resolve the issue so we are using the island's Internet service for e-mail and log uploads to M0URX.
Internet availability is sporadic, with the best access during the time when the locals are sleeping.
Mains power during the strong winds and occasional downpours has been stable.
Some people are sending us e-mails about busted / missing calls: We are not checking for missing or busted calls from the island. Please work us again if you don't see your contact in the log. After the DXpedition Tim M0URX will research missing / busted QSOs.
73,
Team TX5N
TX5N Raivavae Island News 20 April 2022
All antennas are up. Some WX yesterday took down 2 VDAs, repaired this morning. Windy, rain, high temperatures and high humidity.
We're doing about 4,000 Qs a day. There was a log upload with about 4,000 Qs. Planning 160 tonight.
Internet on the island is erratic and very slow. We are having difficulty uploading anything more than short emails. Our satellite service provider has a problem on their end, with no resolution in sight.
See you in the pile up.
Team TX5N
TX5N Raivavae Island News 17 April 2022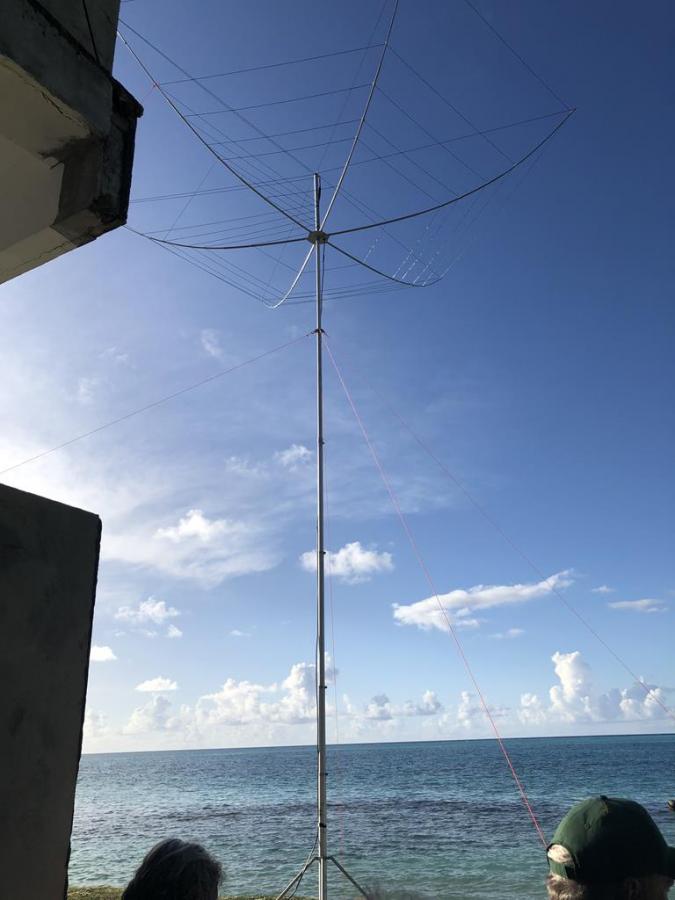 The team worked all day yesterday, till about 9PM. We were on 20 SSB last night testing one of the stations, worked EU, OC, NA, JA.
This morning we're installing additional antennas and have an FT8 station running on 20m.
As of this writing, all contacts are being made with a K3s / KPA-500 and the NA4RR Hex beam.
We plan to do a log upload later today.
73,
Team TX5N
TX5N Raivavae Island News 16 April 2022
After several airline delays and spending a long day at the airport in Papeete, the team arrived on Raivavae on April 15th, at 6PM (local). We were met at the airport by our host and after about a 15 minute drive arrived at the guest house. We were taken to the equipment storage area and so far it all looks to be in good condition. Internet service on the island is not the best, but we did bring along an Inmarsat satellite terminal (BGAN).
Our plan for today is to begin setting up after breakfast and get on the air as soon as possible.
73,
Team TX5N
TX5N Raivavae Island News 15 April 2022
We've just been notified by Air Tahiti that our flight to Raivavae will depart later than originally planned, arriving at the island too late in the day to install antennas.
We now expect to be on the air later in the day, April 16th.

73,
Team TX5N
TX5N Raivae Island News 14 April 2022
Thursday, April 14th:
The entire TX5N team is at their hotel in Papeete. Not unexpected, it's been hot and humid, with passing heavy rainfall during the day.
On Friday, April 15th, they will fly to Raivavae, arrival at the small airport scheduled for 12:50PM.
Shortly after arrival at the guest house we will begin setting up antennas and operating positions.
Good luck in the pile-ups.
73,
GS K5GS
TX5N Raivavae Island News 16 March 2022
The TX5N project is on schedule, planned to be on the air April 16 - April 28, 2022.
Several last minute topics were discussed during a March 15th team meeting, including entry formalities for French Polynesia, the government's required Covid documentation and the operator scheduling.
Our equipment was delivered to Raivavae by cargo ship, and is now stored at the guest house from where we will operate. Included in the shipment are Elecraft K3 stations, one Flex PGXL amplifier and two Elecraft KPA-500 amplifiers. Several items will be hand carried to the island, including a Gemini DX-1200 amplifier and RadioSport headsets. Antennas are monoband VDAs for HF, one inverted-L for 160, two SteppIR BigIR w/80m vertical antennas and an NA4RR hexbeam for 10-20m. The team will operate CW, SSB and Digital.
As Internet is available the logs will be uploaded daily.
TX5N Raivavae Island News 3 February 2022
Over the weekend of January 28th several TX5N team members met in Northern California to consolidate, test and pack the TX5N equipment for shipment to Raivavae, Austral Islands. After reviewing several transportation alternatives, we located a firm in Tahiti that will accept our shipment and transport it to the island via cargo ship.
We have approximately 1,000 pounds (450kg) of equipment on the way to Tahiti. The equipment inventory includes Elecraft transceivers and amplifiers, a Flex PGXL amplifier, two SteppIR BigIR antennas w/80 meters, various mono band VDAs, an NA4RR hex beam and a 160m vertical.
All team members have their airline and hotel reservations to Papeete, Tahiti with onward passage to Raivavae. The operating location will be Pension Tama Raivavae, a small inn which has hosted many previous DX-peditions.
Each team member will have a small bungalow, and radio operations will be conducted from a dedicated building on the beach. Most antennas will be beach mounted. Being on the north side of the island we expect good working conditions.
There are several photographs of the Equipment Weekend activity at: tx5n.net
We are on schedule for this April, 2022 project.
73,
Team TX5N
Received from Gene, K5GS.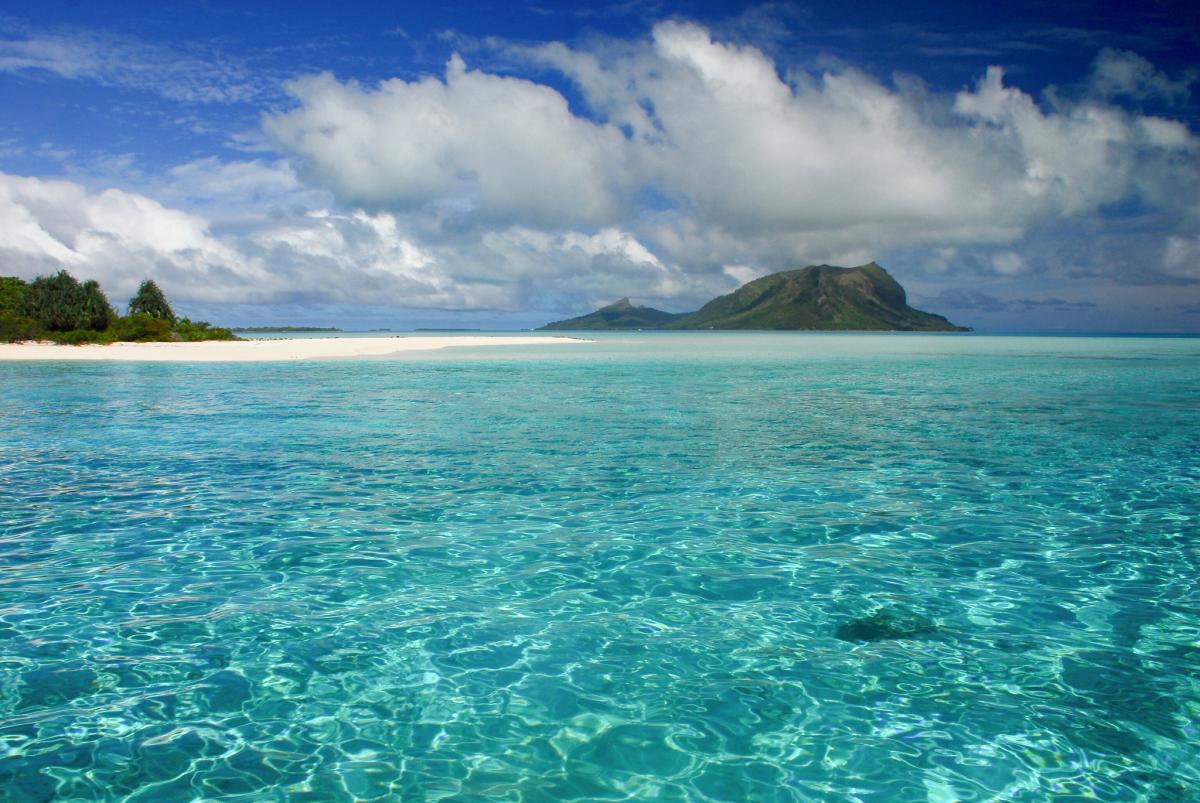 Raivavae Island, Austral Islands. Author - Frederic Cristol.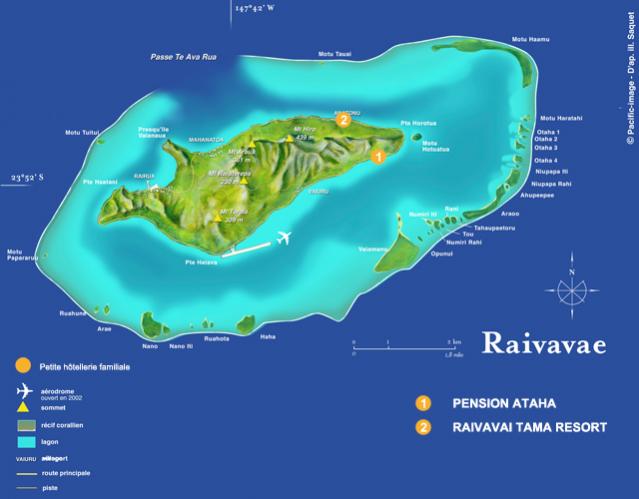 TX5N. Where is Raivavae Island located. Map.
TX5N Raivavae Island. Sunrise 11-30-2023 at 14:53 GMT sunset at 04:25 GMT