HS1FVL, E20KNB, E21EIC will be active from Bali Island (IOTA OC-022) 14 - 17 November 2014 as YB9/AF1VL, YB9/AB1PB, YB9/KY1A.
They will operare on HF bands.
QSL info:
YB9/AF1VL via HS1FVL.
YB9/AB1PB via E20KNB.
YB9/KY1A via E21EIC.
Bali Island- Paradise that should be visited and experienced at least once in a lifetime!
General info
Bali Island is a provice in Republic of Indonesia, also known as "Island of Gods". Capital of Bali is Denpasar, located on the south part of the island. In 2010 island had almost 4 million inhabitants. It is located south of Jakarta, between Java on the West and Lombok on the East. Tourist center of island is city Kuta. Rain season on Bali lasts from December to April; it usually rains in the evening, but raining quickly stops.
Located in eastern Asia, Bali is just one of over 17.000 islands that create largest archipelago in the world, Indonesia. Bali offers unique cultural experience along with divine tropical climate-and this makes it one of most popular vacation destinations in this part of the world. Despite many problems and continuous attacks on island peace, island is continously declared as most desirable island destination in the world, numer of tourists growing every year.
Denpasar is capital and the largest city on the island. It was completely rebuilt in 1906 after Puputan massacre when royal familes comitted group suicide rather than to subdue to Dutch army invasion. Today Denpasar is city of 400.000 inhabitants and meny visitors. Airplanes continuously fly down and off airport.
Bali is island located furthestas on the west within the group of Sundai islands; it is located near the equator line, on border between Indian and Pacific ocean. Tourists visit Bali because it has many luxury hotels on island shores, but one should also know that this is volcanic island. Today volcanic hills don't have that typical form and don't eject lava, but often eartquakes show that tectonic forces under the earth surface are not sleeping.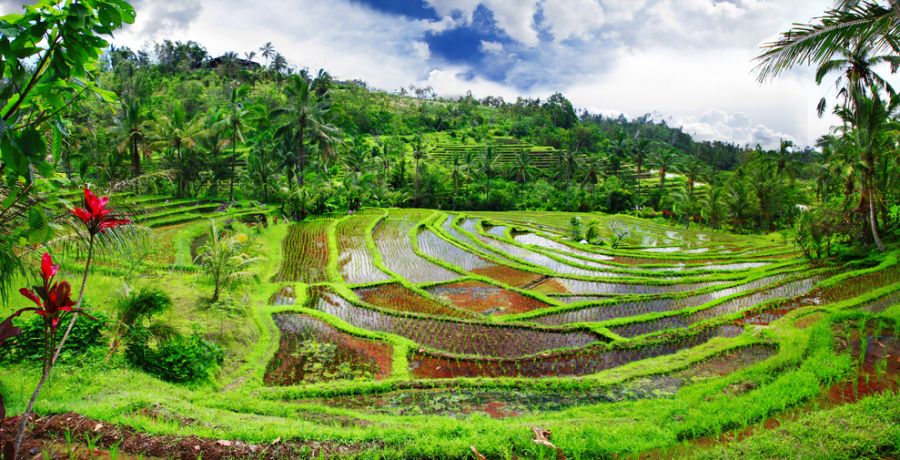 Rice and coffee plantations
This island of Gods and demons, heaven and hell on earth, remind with its picturesque scenery on lushest rainbow colors and is so beautiful that it can seem surreal at moments. Rich plantations of rice and cofee spread down slopes of colorful mountains; one can enjoy in breath-taking beatuy of fascinating volcanoes and heights that seemingly touch the sky. Lush rainforrests frame sandy beaches that one one can resists. There are traditional villages, monumental temples, unique examples of traditional architecture, shopping heaven and vibrant nightlife-you can have every type of fun you like.
Bali is destination for everone considering that it is a unique mixture of modern tourist resorst that perfectly blend with untouched nature and long sandy beaches. There is also reach history-religious heritage. Bali people are particularly proud that they have managed to preserve their religious tradition that is evident in everyday life and architecture, magnificent temples and palaces.
Life of Bali people is limited with religious duties and limitations, and every job is regulated with strict rules. Every home has a sacred spot in backyard, often nicer and better built than the home itself. There are several common large sacred locations on the island, containing dozen temples of different size and shape. This is no wonder, because there are many gods to address.
Although Indonesia is primarily Muslim country (90% of population are Muslim), there is 90% of Hindu followers on Bali. Tourists are very welcomed on Bali, and generally everything revolves around tourist needs. Despite tragedies (two bombing attacks happened, one in Kuta 2002 and one in 2005 in Kuta and Jimbaran), Bali is safe for tourists. However, you must respect local laws, because there is death penalty, especially if you are caught in possesion of any drug.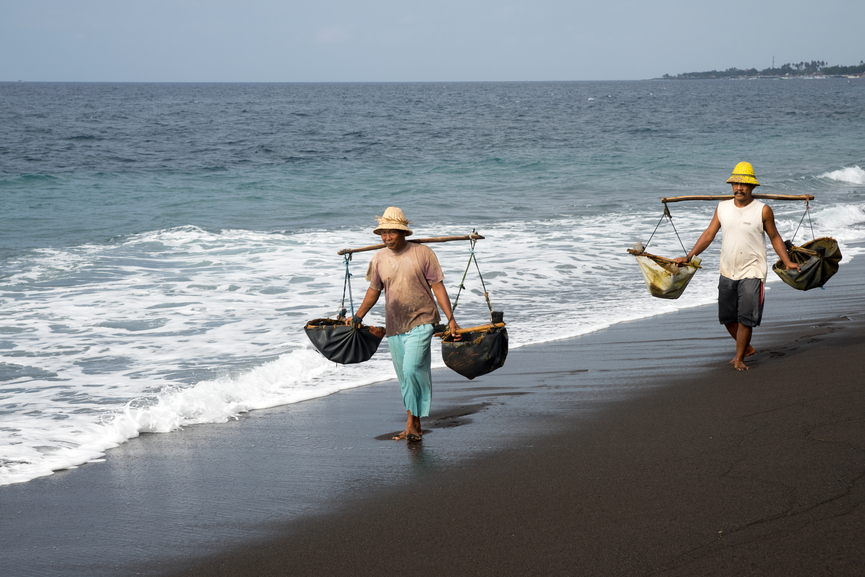 Climbing on Mount Batur volcano
Far from Denpasar crowd and party beaches in Kuta, Mount Batur vulcano is on north of island, large and tempting for adventurers who love to climb over steep slopes. Mount Batur is within popular"Sunrise climb" - early in the morning tourists go toward sun rays that rise above the mountain. This is medium difficult climb, and it doesn't require anything more than avarage stamina and one pair of quality climbing shoes.
Climbing starts at 3:30 am, lasts around two hours and once you reach the top, you are welcomed with a cofee and cakes, later followed by eggs cooked in volcano steam! You can sit on the edge of mountain top, eat and ejoy overview of an entire island, lake Batur and villages bellow, and very tall Mount Agag right next to you.

Mount Batur last eruption was in 2000, eruptions happening every 10-20 years. It is considered that Mount Batur is most active volcano on Bali. Although it erupts often, its eruptions are mild, usually just exploding without lava emission. Guides will take to the top of volcano, where you can peek in one of safer craters. You will not get a glimpse of lava bubbles or dark smoke, but just peaces of black rocks and puffs of steam that look pretty harmless.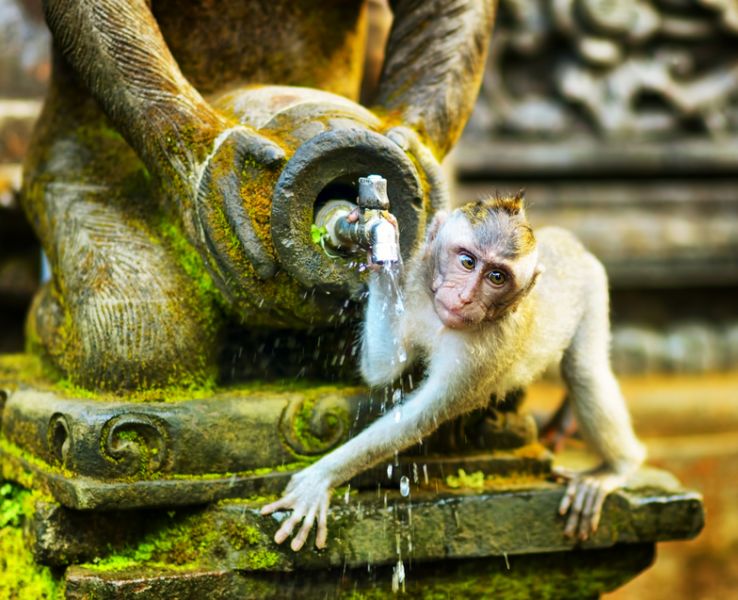 Surfing
Visiting Bali and not surfing is like visiting Paris and not going to Louvre. Bali is world known surfing destination and offers large variety of surfing destinations, starting with Kuta Beach and Sanur, ranging to world class reefbreaks barreling such as Padang Padang and Uluwatu.
Visiting temples
Sea templePura Tanah Lot is probably most popular tourist destination on Bali. Every hotel offors a visit to this temple, and this is so for very simple reason: it is stunningly beautiful. Of course, this leads to comercialization. As soon as you approach the locatio, you are surrounded by local sellers. Number of sellers who offer everything, numerous tourists-all this creates disharmony with the fact that Pura Tanah Lot is one of the most sacred Hindu temples in the country. But don't let this scare you away-this is a must-see spot nevertheless.
Temple Tanah Lot sits on the rock few meters off the beach, and when it is tide it becomes an island of its own, with shores that seemingly disappear deep in the sea. As tide goes away visitors can walk around the temple foundations (but from the outside-temple is open only for Bali Hindu practicioners). In the basis of Tanah Lot, visitors can enter to small cave with sacred spring and take traditional good will blessing, done with droplets of water and few grains of rice on forehead.
Video Bali Island
Where is Bali Island located. Map.
YB9/AF1VL YB9/AB1PB YB9/KY1A Bali Island. Sunrise 12-05-2023 at 21:51 GMT sunset at 10:28 GMT