Members of the Papa Lima DX Group, plus guest operators, will be active from Great Blasket Island (IOTA EU-007), Blasket Islands 26 - 31 July 2014 as EJ0PL.
They will be active in RSGB IOTA Contest 26 - 27 July 2014 as EJ1Y.
They will be active on HF Bands
QSL via EI5JQ instructions on qrz.com.
Information from Ark EI9KC

Great Blasket Island (in Irish An Blascaod Mor) is part of Blasket islands and belong to County Kerry , Ireland.
Island is about 2km from mainland.
Great Blasket island with Blasket Islands is count for RSGB IOTA Award IOTA Reference IOTA EU-007.
International Telecommunication Union Prefixes for Ireland EIA-EIZ , EJA-EJZ.
Great Blasket Island count for DXCC Award as Ireland.
Zone CQ 14.
International Telecommunication Union (ITU) Zone 27.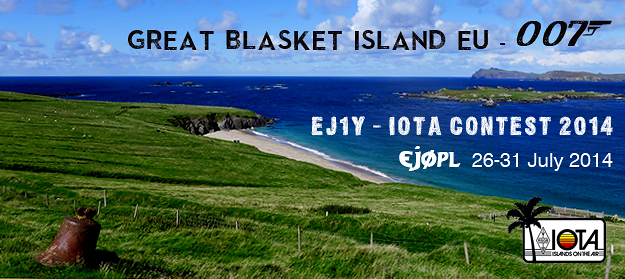 Video Blasket Islands